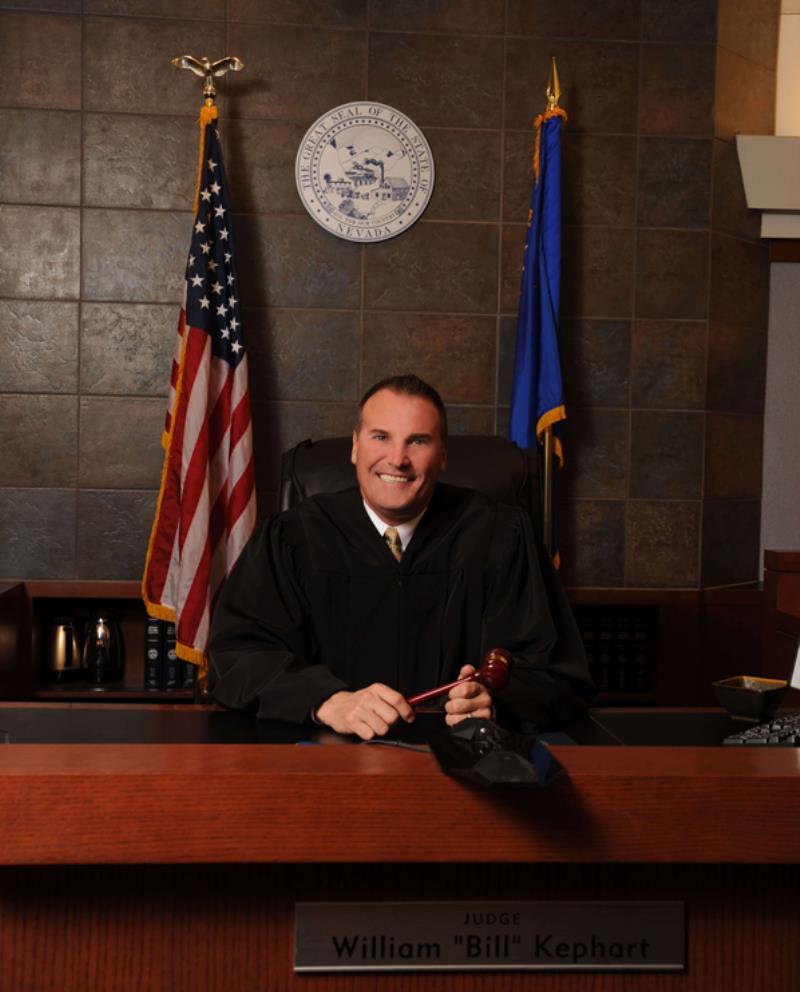 William Kephart
Office - (702) 671-4450
Fax - (702) 671-4449
Law Clerk - (702) 671-4443
Email - lloydm@clarkcountycourts.us
Location - RJC Courtroom 16B
Regional Justice Center
200 Lewis Ave., Las Vegas, NV 89155
William Kephart
Department XIX
Eighth Judicial District Court
Term of Office 2015 - present
Hon. William "Bill" Kephart is District Court Judge for the Eighth Judicial District Court, Department XIX. He is a proud native of Clark County, Nevada and graduated from Basic High School. During high school, he earned the prestige rank of Eagle Scout and remains a lifetime member of the Boy Scouts of America. He later earned his Bachelor of Arts in Criminal Justice from the University of Nevada, Las Vegas, and his Juris Doctorate from the Marshall College of Law in Cleveland.
Judge Kephart previously served as both a Deputy City Attorney for the City of Las Vegas and a Deputy District Attorney in Clark County. His assignments included Chief Deputy Attorney in the Special Victims Litigation Unit and the Habitual Offender Unit. Judge Kephart was not only instrumental in the establishment of the office's first DUI specialized team; he also obtained the necessary funding to battle internet crimes against children.
The voters of Clark County elected Judge Kephart to the Las Vegas Justice Court in 2010. While in Justice Court, he presided over arraignments, preliminary hearings, DUI Court and Veterans Court. He was subsequently elected to his current position in 2015. Since 2010, Judge Kephart has presided over 175 trials.
Judge Kephart continues to reside in Clark County with his wife of 28 years. Together they raised two children and now enjoy their three grandchildren.
Courtroom Protocol
No weapons are allowed. There is no eating, drinking, smoking or chewing gum in any courtroom.
Proper courtroom attire is required. No shorts or tank tops are allowed in the courtroom, shoes are required. T-shirts, which show offensive slogans or pictures, are not allowed. Hats should be removed before entering the courtroom.
While in the courtroom, sit quietly when court is in session. Do not talk or whisper. The court proceedings are being recorded by a court recorder and noise can interfere with the preparation of this important record.
All beepers, cellular telephones, and electronic devices must be turned off before entering the courtroom. Avoid reading newspapers, or books in the courtrooms, particularly if your use of such material may be a distraction to others.
Attorneys are expected to maintain the highest ethical standards at all times, and to strictly adhere to the opportunities, requirements, limitations, and deadlines set by the judge. All counsel are to be punctual for all conferences, hearings and trials. They are to be civil to one another as well as to all parties, witnesses, and court personnel - whether in front of a jury or the court.