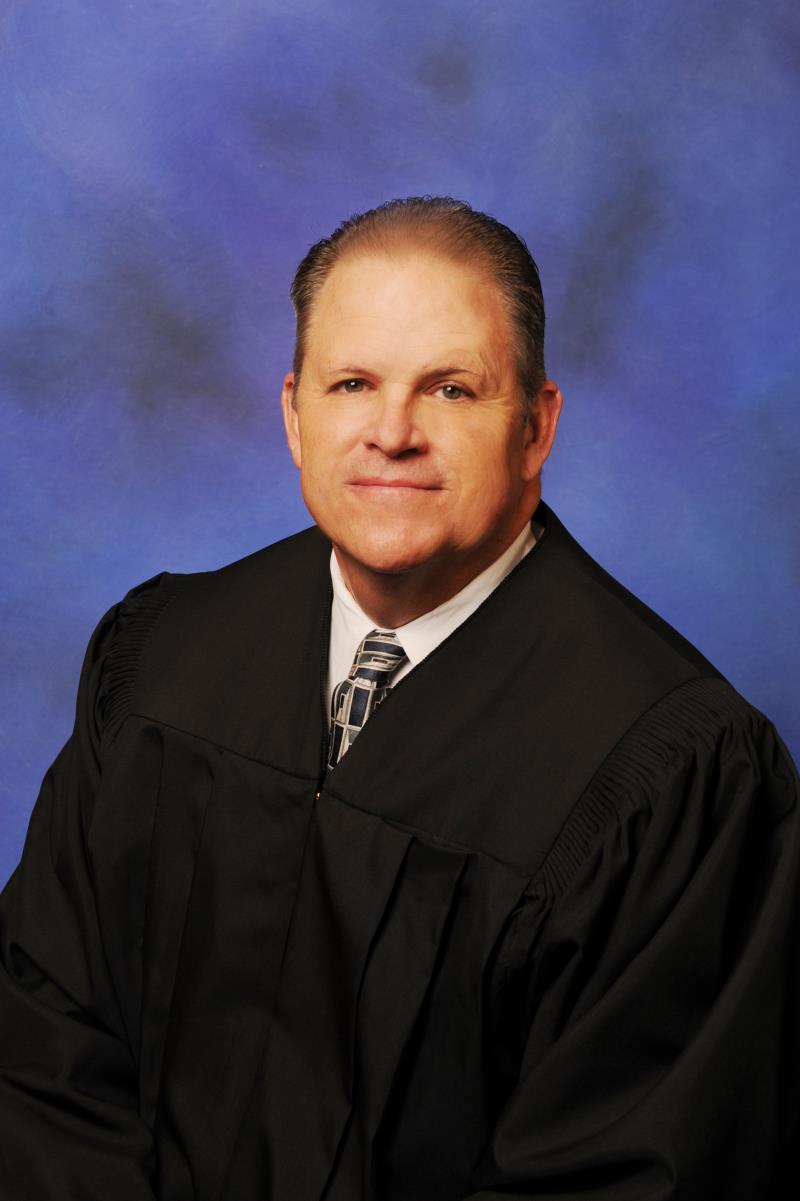 David Jones
Office - (702) 671-3632
Fax - (702) 366-1408
Law Clerk - (702) 671-0890
Email - Dept29LC@clarkcountycourts.us
Location - RJC Courtroom 15A
Regional Justice Center
200 Lewis Ave., Las Vegas, NV 89155
David Jones
Department XXIX
Eighth Judicial District Court
Term of Office 2016 - present
Judge Jones was born and raised in Las Vegas, Nevada. He attended Valley High School and went on to attend Arizona State University, where he received his B.A. Degree in Secondary Education and History; graduating as the School of Education's Distinguished Honor Graduate. After graduation, Judge Jones taught Government, World and U.S. History at Rancho High School. He also developed a Criminal Justice curriculum & class utilized by the Clark County School District. After several years as a teacher, Judge Jones attended University of the Pacific, McGeorge School of Law, graduating with honors, and was named as one of the top trial advocacy team members.
Judge Jones' professional experience includes a long-term partnership at Rawlings, Olson, Cannon, et al., and a partnership at the law firm of Lewis Brisbois. Additionally, he was the managing attorney for the Plaintiff based firm of David Allen & Associates. Judge Jones also worked as a short-trial judge, a court-ordered mediator and arbitrator, and as a family court judge through the Truancy Diversion Program.

He has practiced law entirely within the state of Nevada and has tried dozens of highly complex and public trials, including personal injury cases, medical malpractice, and premises liability. Judge Jones was counsel in the very notorious "biker shooting cases" in Laughlin, Nevada, involving the Hells' Angels and the Mongols motor cycle clubs.

Judge Jones is married and the father of four (4). Along with his distinguished legal career, Judge Jones coached youth football, softball, baseball, and basketball.
Courtroom Protocol
No weapons are allowed. There is no eating, drinking, smoking or chewing gum in any courtroom.
Proper courtroom attire is required. No shorts or tank tops are allowed in the courtroom, shoes are required. T-shirts, which show offensive slogans or pictures, are not allowed. Hats should be removed before entering the courtroom.
While in the courtroom, sit quietly when court is in session. Do not talk or whisper. The court proceedings are being recorded by a court recorder and noise can interfere with the preparation of this important record.
All beepers, cellular telephones, and electronic devices must be turned off before entering the courtroom. Avoid reading newspapers, or books in the courtrooms, particularly if your use of such material may be a distraction to others.
Attorneys are expected to maintain the highest ethical standards at all times, and to strictly adhere to the opportunities, requirements, limitations, and deadlines set by the judge. All counsel are to be punctual for all conferences, hearings and trials. They are to be civil to one another as well as to all parties, witnesses, and court personnel - whether in front of a jury or the court.
Current Assignment
Department 29 is currently assigned a split docket of Civil and Criminal cases.
Motion calendar schedule
Department 29 hears all Civil matters on Mondays and Wednesdays at 9:00 a.m. and 9:30 a.m.
Telephonic Appearance
via Court Call prior to appearance
Courtesy Copy
Counsel are required to submit physical, paper courtesy copies of all briefs that counsel would like the Court to consider at least five judicial days prior to the scheduled hearing pursuant to EDCR 2.20(g) and 7.26(d). All courtesy copies must be hand delivered to Department 29's chambers box and be single sided with all exhibits tabbed. Failure to provide the Court with courtesy copies may result in your motion being denied or continued to a later date to allow counsel to provide a courtesy copy to the Court.
Unopposed Motions
Department 29 may grant unopposed motions in advance of the hearing date, pursuant to EDCR 2.20(e). Counsel is not required to appear for unopposed motions if they are granted by Minute Order sent by the Department to the parties via facsimile prior to the hearing.
Default judgment prove ups
All Default Judgments requesting a total award of $50,000.00 or less may be submitted to Chambers. All Default Judgments requesting an award totaling more than $50,000.00, must be set on the Department's regular motion calendar for a prove-up hearing. Additionally, if there is an issue the Court feels requires a hearing, the Court will set the matter on the regular motion calendar. Live testimony is required at the prove-up hearing. Additionally, all claims related to real property require a hearing.
Submission of Orders
Department 29 requires proposed orders to be submitted to chambers within ten (10) days of notification of the ruling, pursuant to EDCR 7.21. Counsel designated to prepare the order is required to provide a draft to opposing counsel(s) prior to submission. Non-drafting counsel is not required to sign the order prior to submission. Disputes may be resolved by submission to chambers of competing orders, with an explanatory letter, copied on all parties.
Omnibus
Department 29 prefers that motions in limine be submitted as independently-noticed motions rather than omnibus motions. Parties have a responsibility to resolve undisputed motions in limine to hearing pursuant to EDCR 2.47. The Court will not hear on its oral calendar undisputed motions in limine that ought to have been resolved via EDCR 2.47 conference or stipulation.
Pro Bono
Pro bono counsel should check in with the Marshal and or Court Clerk prior to court and their case will be called as soon as possible.
Contested Orders
Disputes may be resolved by submission to chambers of an explanatory letter, copied on all parties, with or without a draft of a competing order. Department 29 will not resolve disputes regarding proposed orders by facsimile correspondence. Department 29 will select the Order which accurately reflects the Court's Decision, as well as the relief requested in the moving papers. If neither order submitted is accurate, the Court will draft its own order.
Electronic Signatures
Department 29 will accept electronic signatures on all documents except Orders; documents submitted for the judge's signature require original signatures by counsel.
Petitions to Compromise Claims of Minors
All Petitions to compromise the claims of minors may be submitted to Chambers for processing without placing the matter on the Court's calendar. A courtesy copy of the filed Petition (along with the proposed Order) should be delivered to Department 29 upon filing of the Petition with the Court. In some case the Court may require hearing be conducted on a matter.
Motions for Enlargement of Time for Service of Process and Service by Publication
Motions seeking an extension of time should be submitted separately from a motion for service by publication as they each have separate requirements to support an order. A courtesy copy of the filed Motion (along with the proposed Order) should be delivered to Department 29 upon filing of the Motion with the Court. An untimely motion to extend may require a hearing. Otherwise, both are processed in chambers.
Noticed motions for temporary restraining orders and preliminary injunctions are heard as any other motions.
Ex parte applications for temporary restraining orders are scheduled by appointment with Judge Jones in chambers with instructions for counsel to be prepared to show adequate advance notice to the other side, per NRCP 65(b) of the date/time of such appointments for the application. Whether or not the TRO is granted; the hearing on the motion for preliminary injunction will be scheduled at that time for a motion calendar (non-evidentiary).
At the time of hearing a motion for preliminary injuction, the Court will hear evidence and argument of counsel. If a TRO has been entered, it will likely be extended pending the evidentiary hearing in accordance with NRCP 65(b).
Discovery Motions
Discovery matters for Department 29 are heard by the Discovery Commissioner, Bonnie Bulla.
Petition to Seal Criminal Records
A Petition may be submitted to Chambers for processing without placing the matter on the Court's calendar when accompanied by a D.A. approved Order. Depending on the number of charges, the time-range, and the gravity of the charge(s), the Court may require a hearing. If needed, the Order will be returned asking the Petitioner to file a Notice of Hearing.
Disclosure of Personal Information
Please refer to Part VII of the Suprement Court Rules regarding sealing personal or restricted information. See NRS 239B.030 for the definition of the personal information which is prohibited from disclosure.
Jury Selection
Department 29 uses the "Arizona Method" of jury selection, requiring voir dire to be directed toward the minimum number of jurors necessary to be qualified, rather than the entire venire.