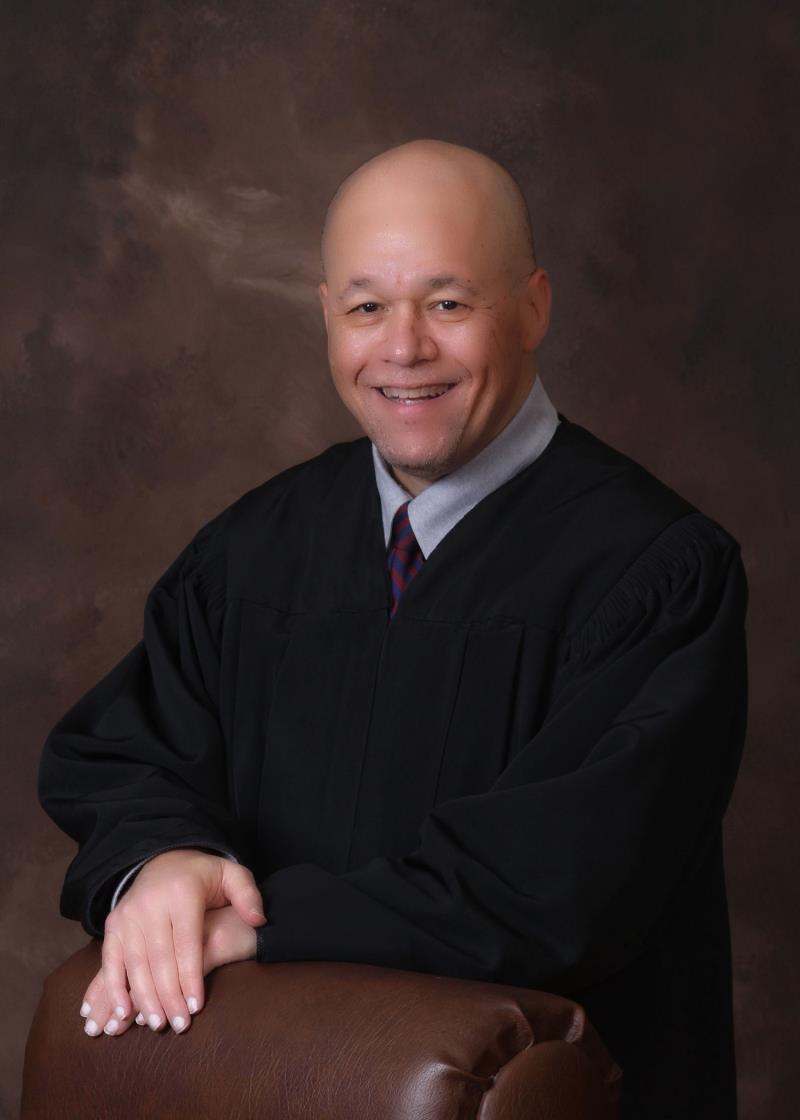 Timothy C. Williams
Office - (702) 671-4406
Fax - (702) 671-4405
Law Clerk - (702) 671-4403
Email - dept16lc@clarkcountycourts.us
Location - RJC Courtroom 03H
Regional Justice Center
200 Lewis Ave., Las Vegas, NV 89155
Timothy C. Williams
Department XVI
Eighth Judicial District Court
Term of Office 2006 - present
Judge Williams was appointed on April 4, 2006 by Governor Kenny Guinn to fill a vacancy left on the District Court bench by JohnMcGroarty and was sworn in on April 24, 2006. He was then retained in the general election of November 7, 2006 to complete the remaining year of his predecessor's term. He filed for re-election in 2008 and was unopposed for a six-year term commencing in January, 2009.

Judge Williams was born in 1955 and has been a 23 year resident of Las Vegas, Nevada. He graduated from Indiana University in 1979 with a Bachelor's Degree in Business. He received his JurisDoctorate in 1983 from Ohio Northern University.
Prior to taking the bench, Judge Tim Williams has 20 years of complex civil litigation experience, has served on the District Court Arbitration and Mediation Panel, and presided as a Judge Pro Tem in the one-day jury trial program. It is estimated that Judge Tim Williams has served in the role as an arbitrator/mediator in hundreds of cases on behalf of the citizens of Clark County, resulting in the avoidance of costly and time-consuming litigation for the parties.
Judge Tim Williams has held many leadership positions for various bar associations. Judge Williams is the former President of the Nevada Trial Lawyers Association, former President of Las Vegas Chapter of National Bar Association, past member of the Consumer Protection Committee for the State Bar of Nevada, past member of the Fee Dispute Committee for the State Bar of Nevada and a member of the Nevada Supreme Court Arbitration/Mediation /Short Trial Committee. He also served 10 years as a panel member of Medical/Dental/Legal Screening Panel for the Insurance Division for the State of Nevada.
As a lawyer, Judge Tim Williams obtained an A-V ranking in Martindale-Hubbell for his legal ability and high ethical standards. Judge Tim Williams has lectured lawyers and Judges over 30 times on continuing legal education for the State Bar of Nevada, Clark County Bar Association and Nevada Trial Lawyer Association. He also has lectured law students at the Boyd School of Law, University of Nevada, Las Vegas.
In addition to his commitment to the law, Judge Williams has received United States Congressional recognition for community service. In 1994, Judge Williams was honored as "Humanitarian-of-the-Year" for his role in assisting boys from single parent homes. Judge Williams has also sponsored "Little League" baseball and junior high basketball teams in Clark County.
Judge Tim Williams is married to former KTNV (Channel 13) Investigative Reporter, Angela Rodriguez.
rev: 11/16/07
Courtroom Protocol
No weapons are allowed. There is no eating, drinking, smoking or chewing gum in any courtroom.
Proper courtroom attire is required. No shorts or tank tops are allowed in the courtroom, shoes are required. T-shirts, which show offensive slogans or pictures, are not allowed. Hats should be removed before entering the courtroom.
While in the courtroom, sit quietly when court is in session. Do not talk or whisper. The court proceedings are being recorded by a court recorder and noise can interfere with the preparation of this important record.
All beepers, cellular telephones, and electronic devices must be turned off before entering the courtroom. Avoid reading newspapers, or books in the courtrooms, particularly if your use of such material may be a distraction to others.
Attorneys are expected to maintain the highest ethical standards at all times, and to strictly adhere to the opportunities, requirements, limitations, and deadlines set by the judge. All counsel are to be punctual for all conferences, hearings and trials. They are to be civil to one another as well as to all parties, witnesses, and court personnel - whether in front of a jury or the court.
Regular chambers calendar
Department 16 does not have a regular chambers calendar. All matters are required to be set on the Department's regular motion calendar.
Unopposed Motions
Department 16 will consider motions in limine that are submitted as independently-noticed motions or as omnibus motions. In any case, subjects of each motion in limine must be numbered and there can be no redundantly numbered motions in limine for any individual party. Parties have a responsibility to resolve undisputed motions in limine prior to hearing pursuant to EDCR 2.47. Any motion in limine filed MUST be supported by an affidavit of counsel which contains ALL appropriate elements required by EDCR 2.47. The Court will not consider motions in limine which are not in compliance with EDCR 2.47.
All motions seeking an extension of time to serve a party may be submitted to Chambers for processing without placing the matter on the Court´s calendar. A courtesy copy of the filed Motion (along with the proposed Order) should be delivered to Department 16 upon filing of the Motion with the Court.
Ex parte applications for Temporary Restraining Orders should be submitted to chambers for review, upon which time the Court will determine whether to issue an Ex Parte TRO and schedule a hearing for the Preliminary Injunction, or whether a hearing is necessary before the issuance of any injunctive relief.
Discovery Commissioner assigned
Discovery matters in the Business Court are heard by the respective Business Court Judges, in Business Court cases, the judge appoints a special master for discovery matters. The Discovery Commissioner is utilized in non-Business Court civil matters.
Rule 16/Discovery Conferences
Rule16 Conferences are conducted in all Business cases.
In non-Business Court cases, the Court will schedule a Discovery Conference following the filing of the JCCR. Counsel may appear telephonically via CourtCall for Discovery Conferences.