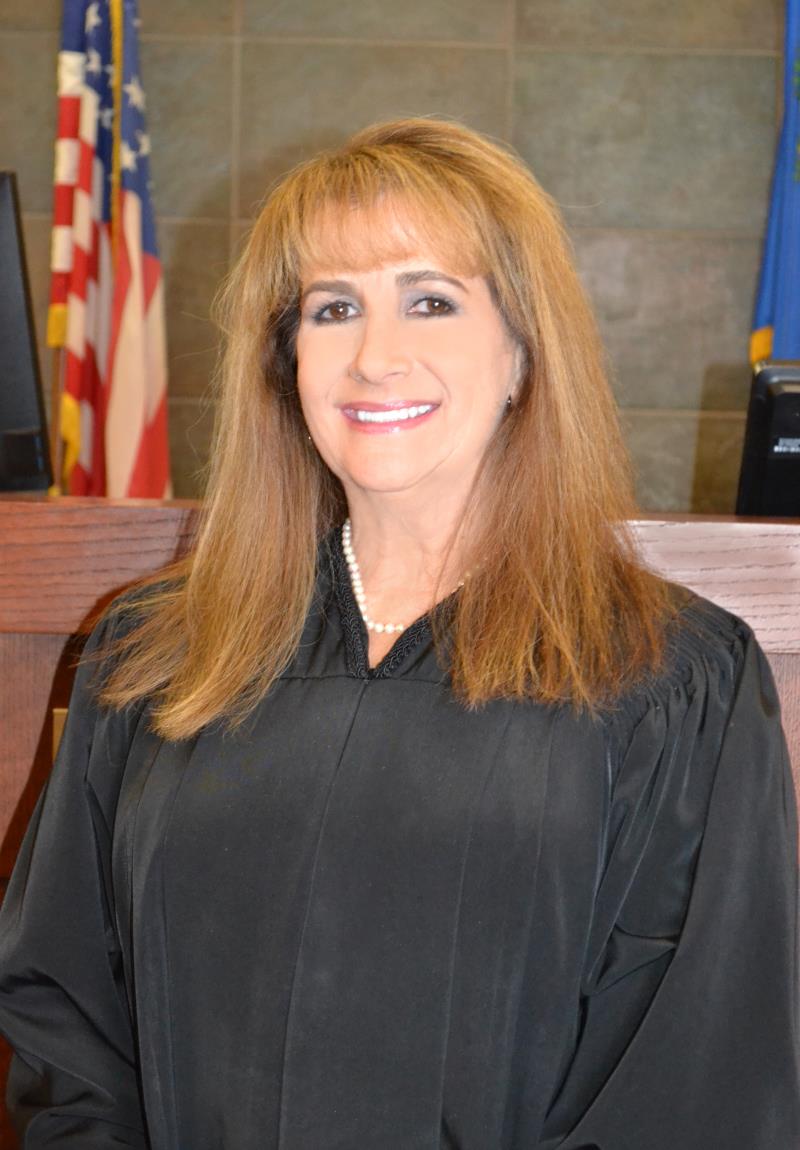 Joanna S. Kishner
Office - (702) 671-3634
Fax - (702) 366-1412
Law Clerk - (702) 671-0899
Email - No ex parte or unsolicited emails accepted
Location - RJC Courtroom 12B
Regional Justice Center
200 Lewis Ave., Las Vegas, NV 89155
Joanna S. Kishner
Department XXXI
Eighth Judicial District Court
Term of Office 2010 - present
THE HONORABLE JOANNA S. KISHNER
Judge Joanna S. Kishner is a native of Southern Nevada. She was elected to Dept. XXXI of the Eighth Judicial District Court in 2010. She is licensed in both Nevada and California. Judge Kishner is very active in the community. She currently serves as a Trustee for the Law Library Board, is a member of the Legal Aid of Southern Nevada's Pro Bono Advisory Council, a member of the Boyd Law School Public Interest Law Foundation and its Executive Board, as well as a member of the state-wide Access to Justice Commission. She was also Chairperson of the Eighth Judicial District's Rules Committee for several years. Judge Kishner continues to be a guest speaker and/or a volunteer judge at many civic and community events including the Judicial Open World Program, "We The People" student moot court programs, student mock trial programs, and student speech and debate programs. Judge Kishner is also one of the founding judges of the Legal Studies Internship program for area high schools.
Prior to taking the bench, Judge Kishner had the honor of working as a Justice of the Peace Pro Tem, Pro Tem Small Claims Referee, a Pro Tem Traffic Court Referee, and as an Arbitrator all while maintaining an active legal practice for over 21 years, including overseeing the Las Vegas office of DLA Piper, a multi-national law firm. Judge Kishner represented various client entities in a broad spectrum of litigation and administrative matters before federal and state district courts and appellate courts, as well as various state and federal agencies and alternative dispute resolution mediums.
Previous to working at DLA Piper and its predecessor firms, Judge Kishner was Senior Counsel for Warner Bros., a division of Time-Warner Entertainment Company, where she advised the international multimedia company on a variety of litigation and employment-related matters, as well as other legal issues. Judge Kishner was also an associate with the multi-national firm Paul Hastings Janofsky & Walker, where she had a broad-based multi-jurisdictional legal practice.
As a result of her efforts, Judge Kishner has been recognized by several publications for her legal work including Chambers USA, America's Leading Lawyers for Business, Super Lawyers, and The Best Lawyers in America publications. She has also been honored and recognized for her pro bono work including working with disadvantaged children through the Children's Attorney Project (CAP) and national pro bono programs, as well as serving on the State and County Bar's Pro Bono Recruitment Committee. Judge Kishner was also one of the featured attorneys and judges in the Nevada Lawyer magazine. In 2016, Judge Kishner was awarded the Justice Nancy Becker Pro Bono Award of Judicial Excellence.
Judge Kishner has edited and/or written on numerous topics, including editing a chapter in Employment Discrimination Law, Barbara Lindemann & Paul Grossman (3rd Edition, 1996). Also, she has often been a speaker at various seminars and has donated her time to various groups such as the Constitutional Rights Foundation Lawyers in the Classroom Program; the Council on Education in Management; Time Magazine's Time to Read Program; and the Las Vegas Chamber of Commerce SmartGrad Program.
Prior to commencing her legal career, Judge Kishner graduated magna cum laude in 1986 with a double major in Political Science and Psychology from Claremont McKenna College. While at CMC, she worked with the Claremont Graduate School's Autism Clinic.
Thereafter, Judge Kishner received her Juris Doctorate in 1989 from UCLA School of Law. While at UCLA, she was a Judicial Extern for the Honorable Stephen V. Wilson of the United States District Court, Central District of California. She was also the Managing Editor of the Federal Communications Law Journal, the Third Year Editor of the UCLA School of Law Yearbook, a Volunteer for the Homeless Legal Project, and participated in Moot Court as well as many other activities.
Judge Kishner has been married for over 24 years and has two children.
Courtroom Protocol
No weapons are allowed. There is no eating, drinking, smoking or chewing gum in any courtroom.
Proper courtroom attire is required. No shorts or tank tops are allowed in the courtroom, shoes are required. T-shirts, which show offensive slogans or pictures, are not allowed. Hats should be removed before entering the courtroom.
While in the courtroom, sit quietly when court is in session. Do not talk or whisper. The court proceedings are being recorded by a court recorder and noise can interfere with the preparation of this important record.
All beepers, cellular telephones, and electronic devices must be turned off before entering the courtroom. Avoid reading newspapers, or books in the courtrooms, particularly if your use of such material may be a distraction to others.
Attorneys are expected to maintain the highest ethical standards at all times, and to strictly adhere to the opportunities, requirements, limitations, and deadlines set by the judge. All counsel are to be punctual for all conferences, hearings and trials. They are to be civil to one another as well as to all parties, witnesses, and court personnel - whether in front of a jury or the court.
Current Assignment
Department 31 is currently assigned a Civil Court docket
Motion calendar schedule
Department 31 hears Civil Court matters on Tuesdays and Thursday at 9:00 a.m. Substantive motions are set at 9:30 a.m. If oral argument will be lengthy, Counsel should request to have the hearing set between 10:00 a.m. and 11:00 a.m. Prove-Up hearings will be scheduled at 10:00 a.m. on Tuesdays and Thursdays.
Other regularly scheduled court sessions
Regular Chambers calendar
Department 31 does have a regular Chambers calendar on Fridays. Based on the facts of a particular case, a matter pending on the Chambers calendar may be set for hearing. Matters regularly placed on the chambers calendar include: Motions to Withdraw; Motions for Reconsideration; Motions to Consolidate; Motions to Intervene; Motions to Compromise Minor's Claims; Petitions for Judicial Review; and Decisions ordered to the Department Chambers calendar.
Discovery Commissioner assigned
Court Reporter or a Court Recorder for its official record
Department 31 uses a Court Recorder – Sandra Harrell.
Telephonic appearance request
Pursuant to Supreme Court Rule, Part IX, Rule 4, telephonic appearances will be permitted with prior approval of the Court. Department 31 requires telephonic appearances be made via Court Call. A request must be made to Chambers at least three (3) judicial days prior to the hearing. Requests can be made via fax, email, or letter. If the request is approved, the party requesting the telephonic appearance must contact Court Call and set up the telephonic hearing at their expense.
Unopposed motions
Department 31 may grant unopposed motions in advance of the hearing depending on the nature of the motion. Counsel is required to appear for unopposed motions unless Counsel has received a notice from the Court that they need not appear.
Default Judgment prove-up hearings
All Default Judgments requesting a total award of $50,000 or less may be submitted to Chambers. All Default Judgments requesting an award totaling $50,000 or more, must be set on the Department's regular motion calendar for a prove-up hearing. Additionally, if there is an issue the Court feels requires a hearing, the Court will set the matter on the regular motion calendar. Live testimony is required at the prove-up hearing; however, telephonic appearances are permitted in cases where it is appropriate. Counsel must contact the Department a minimum of 3 days in advance of the hearing for approval of telephonic testimony of a witness/party. However, if a telephonic appearance of a witness is required at the prove-up hearing, a Notary Public must be in attendance with the witness to swear them in.
Submission of Orders
Department 31 requires proposed orders to be submitted to Chambers within ten (10) days of notification of the ruling, pursuant to EDCR 7.21. Prevailing Counsel is required to draft the Order and provide it to opposing Counsel(s) for signature, allowing for a reasonable opportunity to review and/or comment. All Counsel or Parties are required to sign the Order prior to submission. If a signature from all opposing Counsel and/or a Party is not obtained, drafting Counsel is to submit a letter with the Order stating an effort was made along with an explanation for the lack of signature. If there is a dispute regarding a proposed Order, each Counsel should submit their proposed Order electronically, in a Word document, to cordt@clarkcountycourts.us along with a courtesy copy delivered to Chambers. In some cases, the Court may set the matter for hearing to resolve the dispute.
Contested Orders
In District Court Department XXXI, if there is a dispute as to the content of the order, said dispute may be resolved by submitting competing orders and a cover letter just stating that the other party stated it will be submitting a competing order. If the parties wish to submit competing orders, it is recommended that the parties provide the Court with both a written copy as well as provide a copy electronically, in Word format, to the Department's Law Clerk via email. If the competing order is not timely received before the Chamber's date noted above, then the Court can only evaluate the order(s) which were provided to it.
Electronic Signatures
In District Court Department XXXI, if the opposing party does not object to the form and content of the order but was unable to sign it, then the Court will also accept a copy of an email or other communication indicating that the other party does not dispute the form and content of the order. The signatures of the counsel (or pro se litigant(s) may be either in ink or typewritten and may be either the original signature or a copy thereof.
Jury selection
Department 31 uses a modified version of the "Arizona Method" for jury selection. The presiding Judge initially conducts voir dire of the entire venire. After questioning, the Judge meets with counsel at the bench to discuss whether any prospective jurors should be excused for cause or hardship.
Attorneys are then permitted to conduct voir dire examination of the jury panel. After initial questioning, attorneys meet with the Judge at the bench to discuss whether any of these prospective jurors should be excused for cause. Once the prospective jurors are passed for cause, the parties exercise their peremptory challenges. Excusals for cause are discussed only at the bench and excused jurors are not informed as to the reason for their discharge.
At the request of Jury Services, any motions and/or stipulations to have a jury questionnaire must be heard and approved by the Court a minimum of five weeks before the start of the trial.