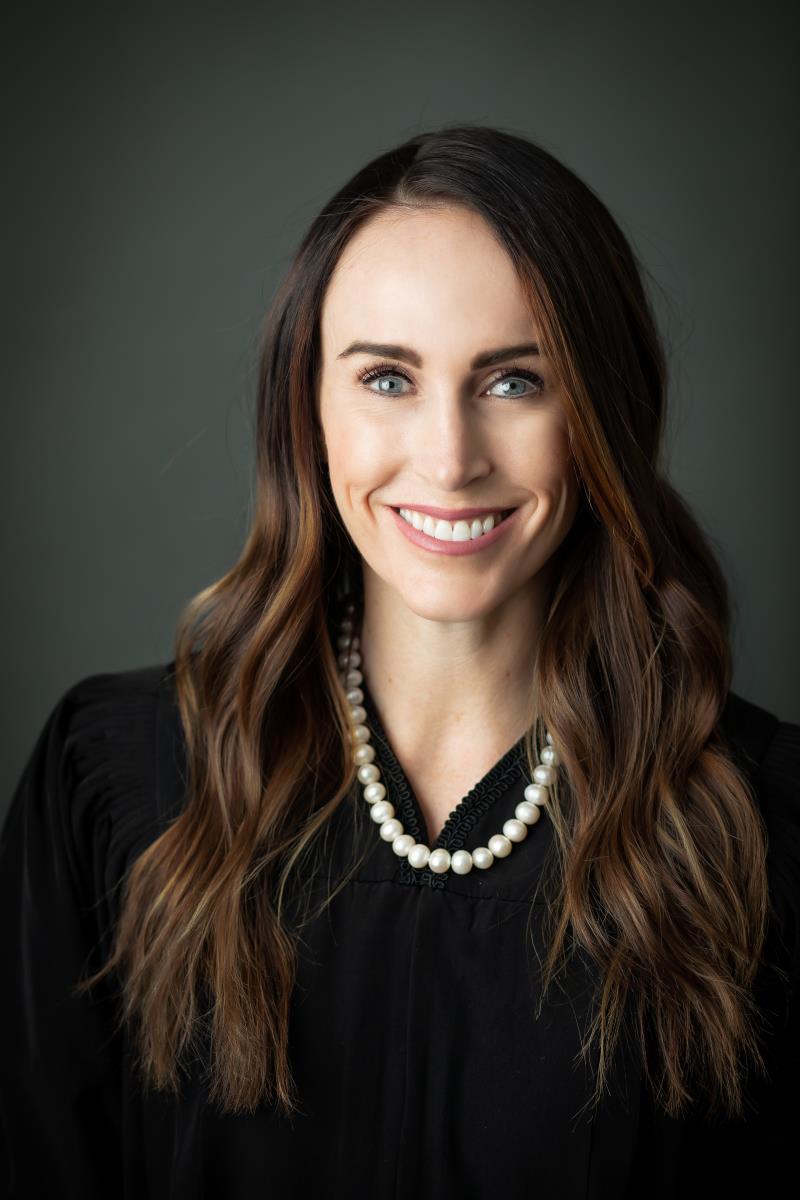 Jacqueline Bluth
Office - (702) 671-4350
Fax - (702) 671-4349
Law Clerk - (702) 671-4354
Email - dept06lc@clarkcountycourts.us
Location - RJC Courtroom 10C
Regional Justice Center
200 Lewis Ave., Las Vegas, NV 89155
Jacqueline Bluth
Department VI
Eighth Judicial District Court

Term of Office 2019 - Present



Jacqueline M. Bluth was born and raised in Reno, Nevada. She received her undergraduate degree from the University of Nevada, Reno. After graduating from UNR, Judge Bluth moved to Las Vegas to attend the William S. Boyd School of Law where, in her third year, she would become President of the
Law School's Student Bar Association. During law school, Judge Bluth worked for two civil firms, Bradley, Drendel, and Jeanney as well as the Law Offices of Benson and Bingham. Judge Bluth also interned for the Honorable Judge Mark Denton and the Clark County District Attorney's Office.
Following her internship at the Clark County District Attorney's Office, Judge Bluth continued working as a law clerk in the appellate division. After passing the Nevada State Bar and California State Bar, Judge Bluth was hired as a District Attorney at the Clark County District Attorney's Office.
In 2012, Judge Bluth was promoted to that of Chief Deputy District Attorney. After working in general litigation, Judge Bluth advanced to the Special Victims Unit where her caseload focused primarily on the prosecution of cases involving physical and sexual abuse of children. In 2015, Judge Bluth was promoted to the Homicide Division of the Clark County District Attorney's Office. In her career as a district attorney, Judge Bluth tried over fifty-five jury trials, almost all of which were for crimes of homicide and/or sexual assault.
Also during her tenure as Chief Deputy District Attorney, Judge Bluth worked very closely with doctors, social workers, and law enforcement personnel as a member of the Clark County Child Death Review (CDR) team. The purpose of this review board is prevention, education, and case analysis to determine needed policy protocol and statute changes in our community. CDR findings have influenced both policy changes and the direction for public awareness campaigns. Judge Bluth served on the Child Death Fatality Review Board as well as on a committee with local county commissioners that wrote policy to protect children involved in foster care.
As a prosecutor, Judge Bluth helped author several pieces of legislation, many of which were passed by the Nevada State Legislature. Judge Bluth testified in front of the Nevada Legislature on two different occasions in Carson City. Ultimately, this legislation allowed changes in the law in the fields of sexual abuse of both women and children, as well as sex trafficking. Additionally, Judge Bluth provided training to officers throughout Las Vegas in identifying and combatting child abuse with the goal of lowering the rate of child homicide in our community. Judge Bluth also provided educational courses to members of the Department of Family Services, Child Protective Services.
Judge Bluth has taught many continuing legal education courses discussing changes in the law, handling witnesses, and the prosecution of child abuse cases. In the Spring of 2018, Judge Bluth was invited by the Nevada Attorney General to teach a webinar entitled, "Sensitive Victim Populations in the Courtroom" to a group of 500 lawyers in Mexico. Judge Bluth has also been a guest speaker at multiple local schools and the William S. Boyd School of Law.
Judge Bluth was appointed to the bench by Governor Steve Sisolak in April of 2019. Judge Bluth handles a split docket covering both civil and criminal matters.
Courtroom Protocol
No weapons are allowed. There is no eating, drinking, smoking or chewing gum in any courtroom.
Proper courtroom attire is required. No shorts or tank tops are allowed in the courtroom, shoes are required. T-shirts, which show offensive slogans or pictures, are not allowed. Hats should be removed before entering the courtroom.
While in the courtroom, sit quietly when court is in session. Do not talk or whisper. The court proceedings are being recorded by a court recorder and noise can interfere with the preparation of this important record.
All beepers, cellular telephones, and electronic devices must be turned off before entering the courtroom. Avoid reading newspapers, or books in the courtrooms, particularly if your use of such material may be a distraction to others.
Attorneys are expected to maintain the highest ethical standards at all times, and to strictly adhere to the opportunities, requirements, limitations, and deadlines set by the judge. All counsel are to be punctual for all conferences, hearings and trials. They are to be civil to one another as well as to all parties, witnesses, and court personnel - whether in front of a jury or the court.
Current Assignment
Department 6 is currently assigned Civil Court and Criminal Court dockets.
Motion calendar schedule
Department 6 hears Civil Court matters on Tuesdays at 9:30 a.m. and Criminal Court matters on Mondays and Wednesdays at 9:30 a.m.
Other regularly scheduled court sessions
Mandatory 16 Scheduling Conferences are held on Tuesdays at 10:30 a.m. after our regularly scheduled Civil Court matters.
Regular chambers calendar
Department 6 does have a chambers calendar. Matters regularly placed on chambers calendar include: Motions to Amend; Motions to Associate Counsel; Motions to Confirm Arbitration Award; Motions to Withdraw; Motions for Stay; Motions for Reconsideration; Motions to Strike; Status Checks on Blocked Accounts; Petitions for Judicial Review; Motion for Clarification; Motions to Redact/Seal; Motions for Leave; and Pro Hac Vice Applications.
Discovery Commissioner assigned
Court Reporter or a Court Recorder for its official record
Department 6 uses a Court Recorder. To request a transcript and/or CD of a hearing, please email the recorder, De'Awna Takas, at takasd@clarkcountycourts.us
Telephonic appearance request
Department 6 requires telephonic appearances be made via Court Call. Counsel must call chambers for permission prior to contacting and arranging appearance via Court Call PRIOR to their scheduled appearance and they must have very good reason for not being able to attend in person.
Unopposed motions
Department 6 does grant unopposed motions in advance. Counsel should appear for unopposed motions unless they are notified otherwise.
Default judgment prove-ups
All Default Judgments with a principal amount of less than $50,000 may be submitted to chambers. Default Judgments with a principal amount of $50,000 or more must be set on the Department's regular civil law and motion calendar for a Prove-up hearing.
Submission of Orders
Department 6 requires proposed orders to be submitted to chambers within ten (10) days of notification of the ruling, pursuant to EDCR 7.21. Counsel designated to prepare the order is required to provide a draft to opposing counsel(s), allowing for a reasonable opportunity for review and comment. Non-drafting counsel is not required to sign the order prior to submission. Disputes may be resolved by submitting competing orders with explanatory letters, copied on all parties, for chambers review.
Contested Orders
In District Court Department VI, when orders are contested, each party must submit a letter, copied to all parties, explaining their position regarding the dispute and proposed orders. The Court will then sign the order it deems appropriate with any necessary revisions.
Electronic Signatures
In District Court Department VI, on orders submitted to the Judge for signature, electronic signatures will not be accepted. Original signatures of the attorneys or pro se litigants are required. Copies of an original signature are also accepted.
Jury selection
Department 6 uses the modified "Arizona Method" of jury selection, requiring voir dire to be directed toward the minimum number of jurors necessary to be qualified, rather than the entire venire. During her questioning, the Judge will address the entire prospective venire for certain questions.