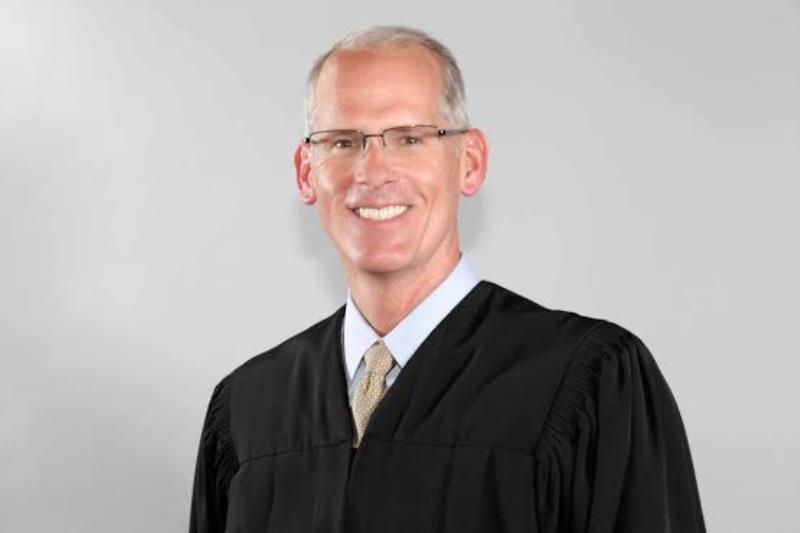 Douglas W. Herndon
Office - (702) 671-4312
Fax - (702) 671-4311
Law Clerk - (702) 671-4309
Email - dept03lc@clarkcountycourts.us
Location - RJC Courtroom 16C
Regional Justice Center
200 Lewis Ave., Las Vegas, NV 89155
Douglas W. Herndon
Department III
Eighth Judicial District Court
Term of Office 2005 - present
Judge Douglas W. Herndon was born and raised in Texas, having received his undergraduate degree from Texas A&M University in 1986. He then received his law degree in 1990 from the Washington and Lee University School of Law in Lexington, Virginia.

Immediately thereafter, Judge Herndon made Las Vegas his home.
Judge Herndon is currently the District Court Judge for Department 3 of the Eighth Judicial District Court, having originally been appointed to this position by Governor Kenny Guinn in January, 2005. Thereafter, he was retained by election in 2006 and re-elected in 2008.

In addition to carrying a full Civil-Criminal Caseload, Judge Herndon is the Chief Presiding Criminal Judge who oversees the operation of the Criminal Division of the Eighth Judicial District Court system. Additionally, he serves on the Eighth Judicial District Court's Executive Committee. Judge Herndon has also served as the Eighth Judicial District Court's Head Election Issues Judge, has served on the Court's Security Task Force and was appointed by the Nevada District Judges Association as its representative to the State Advisory Commission on the Administration of Justice.
Prior to his judicial appointment, Judge Herndon enjoyed a fourteen year career in the Clark County District Attorney's Office, the last nine years of which were spent as the Chief Deputy District Attorney in charge of the Special Victim's Unit. There, he specialized in the prosecution of cases involving the physical and sexual abuse of women and children, including child abuse homicide, sexual assault and Internet crimes against children.
In 2010, Judge Herndon received the Community Service Award for his work with The Rape Crisis Center. Shortly after taking the bench, in April, 2005, Judge Herndon received the Gary Collie Award from the Community Coalition for Victim's Rights. And, in his capacity as a prosecutor, Judge Herndon, in May, 2003, was honored as Family and Child Treatment of Southern Nevada's Man of the Year.

Judge Herndon spends a great deal of time writing, presenting and judging mock trial programs for Elementary, Middle and High School children in Clark County, as well as for UNLV undergraduate and law school students. He involves himself with teaching High School and College students as a guest lecturer on Criminal Law and the Court System while also teaching Rape Crisis Center volunteers on issues related to the court system. Further, he has been a frequent lecturer at State Bar of Nevada seminars dealing with issues related to civil procedure, proper trial conduct and the rules of professional conduct and ethics.

While with the Clark County District Attorneys Office, Judge Herndon worked closely with doctors, social workers and law enforcement personnel as a member of the Clark County Child Death Review Team, the Sexual Abuse Investigation Team, the Child Protection Team, the Domestic Fatality Review Team and the State Domestic Violence Task Force. He has been an Advisory Board Member for the National Shaken Baby Alliance and Nevada Child Seekers.

As a prosecutor, Judge Herndon authored several pieces of legislation, including a revamping of the statutes involving Child Physical Abuse and Neglect, and Sexual Abuse of both women and children. Additionally, he provided annual courtroom training to Registered Nurses through the Rose Heart Sexual Assault Nurse Examiner Seminar and was a frequent guest speaker at UNLV and the Community College of Southern Nevada on topics related to the legal aspects of the physical and sexual abuse of women and children.

Judge Herndon is married and he and his wife, Carrie, have two daughters, Kaitlyn and Emily Grace. In his free time, he enjoys reading, writing, coaching his daughters' various youth sports teams, running marathons to raise money for local charities and working as a member of The Meadows School Board of Trustees.
Courtroom Protocol
No weapons are allowed. There is no eating, drinking, smoking or chewing gum in any courtroom.
Proper courtroom attire is required. No shorts or tank tops are allowed in the courtroom, shoes are required. T-shirts, which show offensive slogans or pictures, are not allowed. Hats should be removed before entering the courtroom.
While in the courtroom, sit quietly when court is in session. Do not talk or whisper. The court proceedings are being recorded by a court recorder and noise can interfere with the preparation of this important record.
All beepers, cellular telephones, and electronic devices must be turned off before entering the courtroom. Avoid reading newspapers, or books in the courtrooms, particularly if your use of such material may be a distraction to others.
Attorneys are expected to maintain the highest ethical standards at all times, and to strictly adhere to the opportunities, requirements, limitations, and deadlines set by the judge. All counsel are to be punctual for all conferences, hearings and trials. They are to be civil to one another as well as to all parties, witnesses, and court personnel - whether in front of a jury or the court.