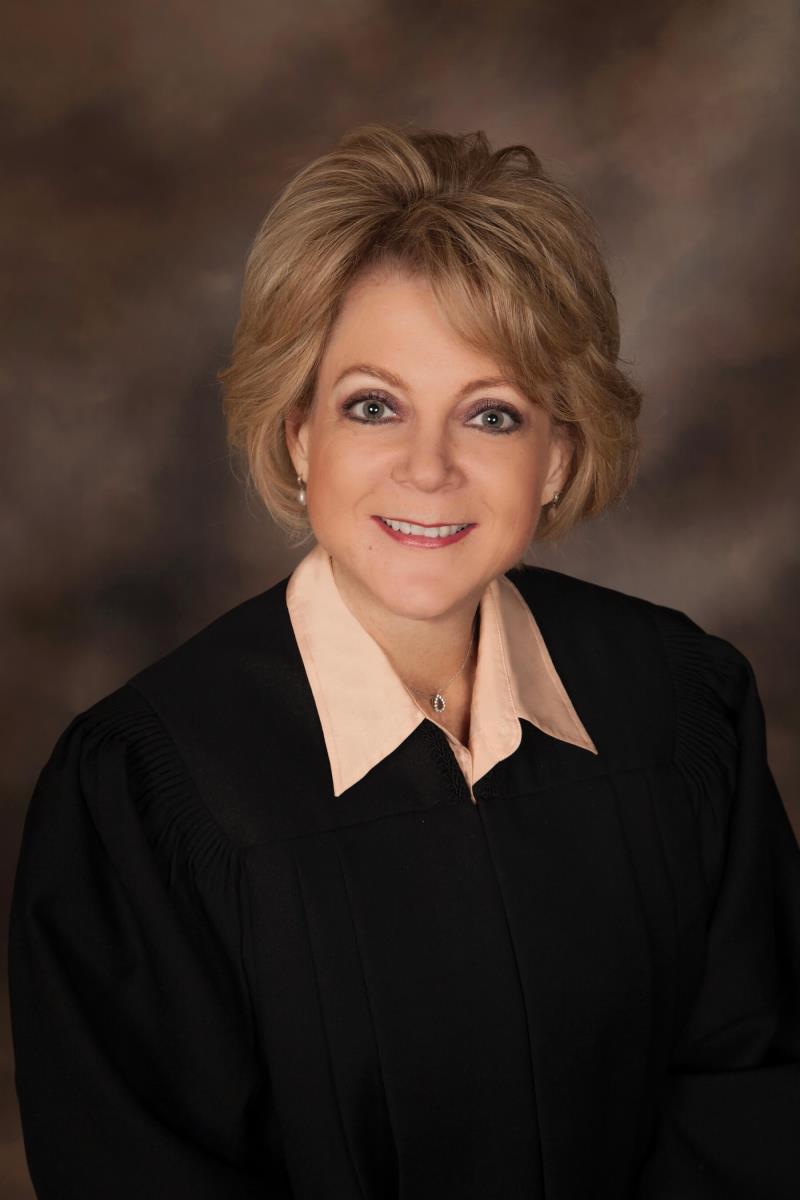 Nancy L. Allf
Office - (702) 671-3629
Fax - (702) 366-1404
Law Clerk - (702) 671-0884
Email - dept27lc@clarkcountycourts.us
Location - RJC Courtroom 03A
Regional Justice Center
200 Lewis Ave., Las Vegas, NV 89155
Nancy L. Allf
Department XXVII
Eighth Judicial District Court
Term of Office 2011 - present
Judge Allf graduated from Transylvania University in 1979, receiving her Bachelor of Arts Degree in Pre-Law and French. She received her law degree from the Salmon P. Chase College of Law at Northern Kentucky University in 1982. After graduation she moved to Las Vegas and was admitted to practice in 1983.
Judge Allf entered private practice in 1983 where she focused primarily on commercial litigation and bankruptcy law. Since her admission to the bar Judge Allf has taken an active role in enhancing the legal community in Nevada. In 1999 she served as the President of the Clark County Bar Association and later as President of the State Bar of Nevada in 2007. In 2000 she served as President of the Board of Directors of the Clark County Law Foundation. She is currently an active member in the American Bar Association, the Southern Nevada Association of Women Attorneys, and the Southern Nevada Association of Bankruptcy Attorneys.
In 1999, Judge Allf was awarded a Distinguished Alumni Award from her alma mater, Transylvania University. Her law school selected her as Alumna of the Year in 2010. Judge Allf has also been honored by the Clark County Pro Bono Project, for her public service to the community. In 2005 she was named as one of the 300 women who shaped the history of Las Vegas by the Women of Diversity Project.
The Nevada Supreme Court appointed Judge Allf as a Settlement Judge from 1998-2007. In 2005 she was appointed to become a Judge in the Short Trial Program of the 8th Judicial District. The Nevada Supreme Court also appointed Judge Allf to the Business Court Task Force in March 2000 and the Pro Bono Compliance Committee in September 2002.
Courtroom Protocol
No weapons are allowed. There is no eating, drinking, smoking or chewing gum in any courtroom.
Proper courtroom attire is required. No shorts or tank tops are allowed in the courtroom, shoes are required. T-shirts, which show offensive slogans or pictures, are not allowed. Hats should be removed before entering the courtroom.
While in the courtroom, sit quietly when court is in session. Do not talk or whisper. The court proceedings are being recorded by a court recorder and noise can interfere with the preparation of this important record.
All beepers, cellular telephones, and electronic devices must be turned off before entering the courtroom. Avoid reading newspapers, or books in the courtrooms, particularly if your use of such material may be a distraction to others.
Attorneys are expected to maintain the highest ethical standards at all times, and to strictly adhere to the opportunities, requirements, limitations, and deadlines set by the judge. All counsel are to be punctual for all conferences, hearings and trials. They are to be civil to one another as well as to all parties, witnesses, and court personnel - whether in front of a jury or the court.
Current Assignment
Department 27 is currently assigned a Civil Court and Business Court Dockets
Motion calendar schedule
Department 27 hears Civil and Business Court matters on Wednesday & Thursdays beginning at 9:00 a.m and 9:30 a.m. Matters are set every thirty minutes.
Regular chambers calendar
Department 27 does have a regular chambers calendar every Tuesday. Matters regularly placed on the chambers calendar include:
Motions to Withdraw - Chambers
Motions to Associate - Chambers
Motions to Reconsider - Chambers
Motions to Extend Time for Service - Chambers
Motions to Seal/Redact - Chambers
Status Checks for Proof of Blcoked Account on Minors Compromise - Chambers
Petitions for Judcial Review - Chambers unless Oral Argument is requested by Department via Order
Everything Else on Motions Calendar
Telephonic appearance request
Department 27 allows telephonic appearances to be made via Court Call. Counsel must arrange appearance via Court Call prior to their scheduled appearance. Court Call phone number is (866) 582-6878.

Click here for the Court Recorder's Guide
Unopposed motions
Department 27 will grant unopposed motions in advance of the hearing date.
Default judgment prove-ups
All Default Judgments for a total award of less than $50,000 may be submitted to chambers. All Default Judgments for a total award of $50,000 or more must be set on the Department´s regular motion calendar. Live testimony is required for the prove-up hearing; witnesses may appear by Court Call. Remote witnesses must be able to prove their identity.
Injunctive Relief
Noticed motions for temporary restraining orders and preliminary injunctions are heard as any other motions.
Ex parte applications for temporary restraining orders shall be presented to the Court to be resolved in chambers. The applicant must, by affidavit, show adequate advance notice to the other side or an appropriate exception in accordance with NRCP 65(b).
Omnibus Motions
Department 27 requires that motions in limine be submitted as independently-noticed motions rather than omnibus motions.
Parties have a responsibility to resolve undisputed motions in limine prior to hearing pursuant to EDCR 2.47. The Court will not hear on its oral calendar undisputed motions in limine that ought to have been resolved via EDCR 2.47 conference or stipulation.
Pro Bono
If counsel are pro bono, they are to check in with the courtroom clerk in the morning prior to calendar and their case will be called in the first group.
Submission of Orders
Order Shortening Time – A Request for an Order Shortening Time ("OST") must be hand delivered to the department drop box. Advance notice to the JEA or law clerk is welcome. Any and all requests for OSTs must have a courtesy copy of the Motion/Application attached. Requests for OST must contain proposed dates and a detailed explanation for the request. Please be sure to identify a contact person to be called for pickup.
Order Language – The proposed Order will not be signed if "IT IS SO ORDERED" language and signature line are on a separate page from the content of the Order. The signature line must be on a page describing what the Judge is ordering. Alternatively, the Judge's signature line may be on the same page as the other signatures provided that there are at least two lines of text from the stipulation. The only exception is if there are multiple signatures, and it is not possible for the party to put the Judge's signature with two lines of text, in which case the parties need to ensure the Judge's signature is at least on a page with some of the signatures, and the case number/name of the document is included on the page to be signed.
UNLESS OTHERWISE NOTED IN COURT, THE PREVAILING PARTY IS TO PREPARE THE ORDER. Department 27 requires proposed orders to be submitted to chambers within ten (10) days of notification of the ruling, pursuant to EDCR 7.21. Counsel designated to prepare the order is encouraged to provide a draft to opposing counsel(s), allowing at least a full day for review and comment, before delivery to the Court. Non-drafting counsel is not required to sign the order approved as to form prior to submission, unless the Court directs otherwise.
PLEASE NOTE – Any order that is inconsistent with the oral ruling of the Court or the Court Minutes will be returned unsigned for correction or will be corrected via interlineation. Counsel should notify the Court of any perceived error in the Court Minutes by Motion pursuant to NRCP 60(a).
All stipulations and orders for dismissal must comply with EDCR 2.75 or they will be returned.
Contested Orders
In District Court Department 27, when counsel are unable to agree on the language of an order, counsel should present their competing positions in a word document hand delivered to the law clerk with no additional argument or explanation, merely stating that there is a "disagreement as to the wording of the Order," identifying the wording that is believed to be wrong, and directing the Court to the proposed alternate language. If a redline copy is available counsel may also submit that document. Generally the Court will enter an order after reviewing the competing versions and any record of the hearing. If after considering the proposed orders the court believes additional input from counsel is appropriate, the court may set a conference call or hearing to obtain additional information or argument from counsel.
Letters to the Court containing substantive argument on the merits of a contested issue are disfavored, viewed as improper ex parte communications, even if copied to opposing counsel, and will generally be disregarded.
Department 27 will not accept competting orders.
In District Court Department 27, when counsel cannot agree on the language of an order, the Court reviews the competing orders and does one of the following:

a. Signs one
b. Interlineates the appropriate language and signs one, or
c. Conducts a telephonic hearing on the record.
Jury selection
Department 27 uses the "Arizona Method" of jury selection, requiring voir dire to be directed toward the minimum number of jurors necessary to be qualified, rather than the entire venire.
Courtesy Copies
Not required. Department 27 requires all "correspondence" to be electronically served on all parties
Special Settings
Required for any matter which requires total argument of over 20 minutes.