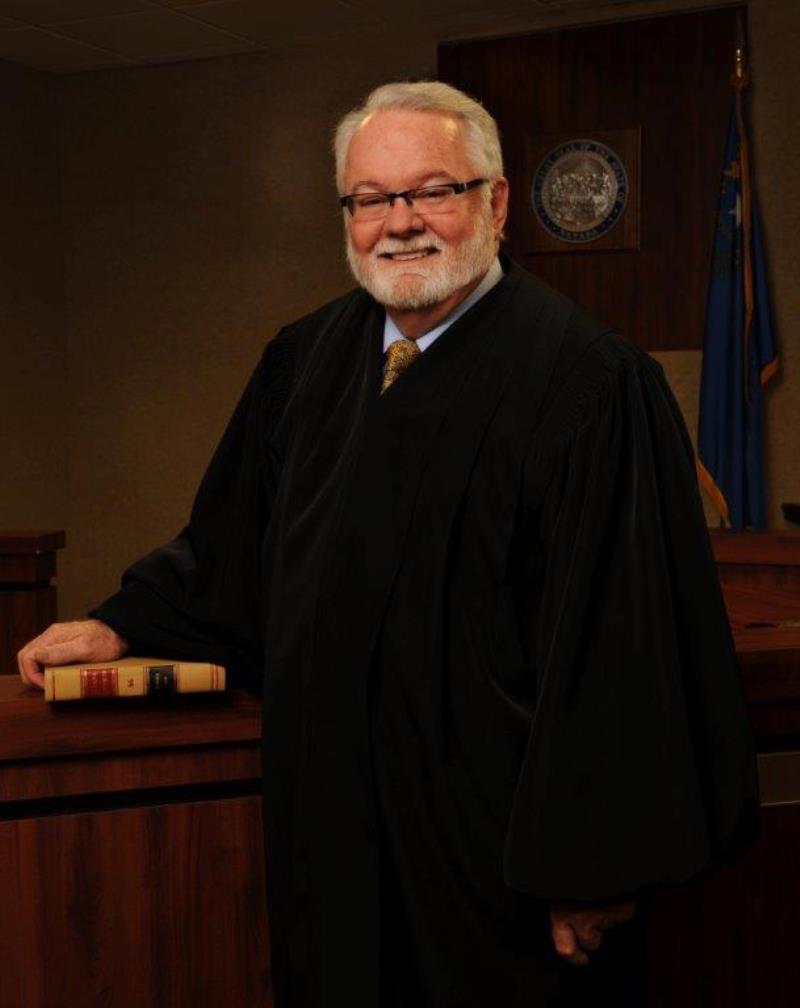 Jim Crockett
Office - (702) 671-0591
Fax - (702) 671-0598
Law Clerk - (702) 671-0592
Email - dept24lc@clarkcountycourts.us
Location - Phoenix Building Courtroom 11th FL
Phoenix Building
330 S. 3rd St, Las Vegas, NV 89101
Jim Crockett
Department XXIV
Eighth Judicial District Court
Term of Office – January 2015 to Present
Judge Crockett has lived in Las Vegas since 1952. He attended Kindergarten through High School in the Clark County School District public education system and graduated a year early. He attended his first year of college at Nevada Southern University (now known as University of Nevada Las Vegas). He completed his college education at Loyola-Marymount University in Los Angeles, earning a Bachelor's Degree in History and Political Science in 1971.


Judge Crockett then attended the University of the Pacific's McGeorge School of Law in Sacramento where he received the American Jurisprudence Award in Tort Law and served as President of the Student Bar Association and received the President's Scholarship.

Upon graduation from law school in 1974, Judge Crockett returned to Nevada, passed the Nevada Bar Exam and opened his own law office. In 1979, he partnered with Rich Myers and they formed the law firm of Crockett & Myers. The Crockett & Myers firm represented private citizens in civil litigation for over 35 years until Judge Crockett was elected to the bench in November of 2014.

Judge Crockett has been a Board Certified Civil Trial Advocate since 1983. In 2006, he received the "Trial Lawyer of the Year" award from the Nevada Trial Lawyers Association and in 2007, he received the NTLA's Ray Badger Award for outstanding service to the organization.

Judge Crockett took his Oath of Office on January 2, 2015, and is now enjoying his first year as a Civil Trial Court Judge in Department 24 of the Eighth District Court.

Judge Crockett is married and has an adult daughter. His hobbies are motorcycling and travel.
Courtroom Protocol
No weapons are allowed. There is no eating, drinking, smoking or chewing gum in any courtroom.
Proper courtroom attire is required. No shorts or tank tops are allowed in the courtroom, shoes are required. T-shirts, which show offensive slogans or pictures, are not allowed. Hats should be removed before entering the courtroom.
While in the courtroom, sit quietly when court is in session. Do not talk or whisper. The court proceedings are being recorded by a court recorder and noise can interfere with the preparation of this important record.
All beepers, cellular telephones, and electronic devices must be turned off before entering the courtroom. Avoid reading newspapers, or books in the courtrooms, particularly if your use of such material may be a distraction to others.
Attorneys are expected to maintain the highest ethical standards at all times, and to strictly adhere to the opportunities, requirements, limitations, and deadlines set by the judge. All counsel are to be punctual for all conferences, hearings and trials. They are to be civil to one another as well as to all parties, witnesses, and court personnel - whether in front of a jury or the court.