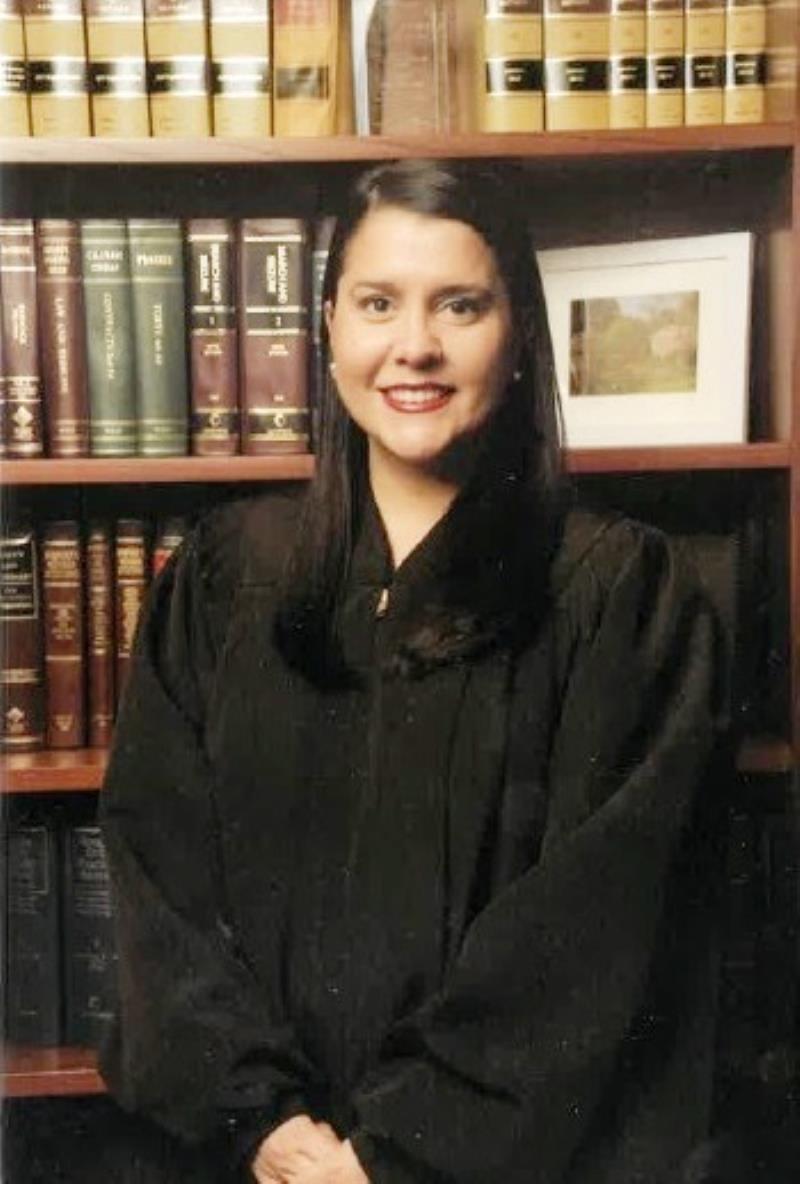 Cristina D. Silva
Office - (702) 671-4395
Fax - (702) 671-4394
Law Clerk - (702) 671-4392
Email - dept09lc@clarkcountycourts.us
Location - RJC Courtroom 11B
Regional Justice Center
200 Lewis Ave., Las Vegas, NV 89155
Cristina Silva
Department IX
Eighth Judicial District Court
Term of Office 2019 - present
The Honorable Cristina D. Silva was appointed by Governor Steve Sisolak to serve for the Eighth Judicial District Court, Department IX, in Las Vegas, Nevada, in March 2019. Her case assignments consist of both civil and criminal matters.
After receiving her J.D. from American University Washington College of Law and her B.A. from Wellesley College, where she double majored in Political Science and Spanish, Judge Silva dedicated herself to public service.
Judge Silva began her legal career as an Assistant State Attorney at the Miami-Dade State Attorney's Office where she quickly moved up the ranks to become the Assistant Chief of Litigation of the Domestic Violence Unit. After relocating to Nevada in 2011, she applied that experience toward successfully prosecuting a wide range of cases involving violence, drugs, and financial-based crimes for the United States Department of Justice as an Assistant United States Attorney (AUSA) in the U.S. Attorney's Office for the District of Nevada. During her tenure as an AUSA, she served as the Deputy Chief to the Organized Crime Strike Force overseeing several programs including Project Safe Neighborhoods, Project Safe Childhood, Organized Crime and Gangs, and Human Trafficking. In 2017, she was awarded the Community Impact Award by the National Latino Peace Officers Association for her efforts combatting violent crime in the Las Vegas Valley. Her commitment to her work and her community earned her the position of Chief of the Criminal Division for the U.S. Attorney's Office for the District of Nevada. She was the first woman and Latina appointed to that position.
Judge Silva serves on the board of the Las Vegas Latino Bar Association and is an active member of the Southern Nevada Association of Women Attorneys. She is also a member of the Clark County Bar Association, the Hispanic National Bar Association (HBNA), and the Federal Bar Association. In March of 2019, she was named a Top Attorney Under 40 by the HBNA, and was recognized as a 2019 Legal Elite for her work as a Government Attorney by Nevada Business Magazine. In her spare time, Judge Silva enjoys spending time with her rescue dogs and traveling to run half and full marathons.
Courtroom Protocol
No weapons are allowed. There is no eating, drinking, smoking or chewing gum in any courtroom.
Proper courtroom attire is required. No shorts or tank tops are allowed in the courtroom, shoes are required. T-shirts, which show offensive slogans or pictures, are not allowed. Hats should be removed before entering the courtroom.
While in the courtroom, sit quietly when court is in session. Do not talk or whisper. The court proceedings are being recorded by a court recorder and noise can interfere with the preparation of this important record.
All beepers, cellular telephones, and electronic devices must be turned off before entering the courtroom. Avoid reading newspapers, or books in the courtrooms, particularly if your use of such material may be a distraction to others.
Attorneys are expected to maintain the highest ethical standards at all times, and to strictly adhere to the opportunities, requirements, limitations, and deadlines set by the judge. All counsel are to be punctual for all conferences, hearings and trials. They are to be civil to one another as well as to all parties, witnesses, and court personnel - whether in front of a jury or the court.
Current Assignment
Department IX is currently assigned Criminal Court and Civil Court dockets.
Motion Calendar Schedule
Department IX hears Criminal matters on Mondays and Wednesdays at 8:30 a.m. Civil matters are heard on Tuesdays at 8:30 a.m. in Courtroom 11B of the Reginal Justice Center.
Other Regularly Scheduled Court Sessions
Rule 16 Mandatory Scheduling Conferences are held the first Thursday of each month.
Regular Chamber Calendar
Department IX has a regular chambers calendar every Monday. Those matters are decided upon the written submissions. The Court will issue a written order which will be transmitted to the parties.
Discovery Commissioner Assigned
Court Recorder for the Court's Official Record
Telephonic Appearance Request
Department IX requires telephonic appearance be made via CourtCall. Counsel must notify the Department in advance of their intention then register with CourtCall prior to their scheduled appearance.
Unopposed Motions
Department IX may grant unopposed motions in advance of the hearing date. Counsel for the parties, or the parties in proper person, will be contacted if anything has been issued and their presence is not required.
Motions Considered without Oral Argument
Counsel are encouraged to submit written briefs that thoroughly address all issues and arguments related to each motion and include all exhibits, affidavits, and evidence that they deem relevant to the disposition of the matter. In appropriate cases, generally involving non-dispositive motions, the Court may, after reviewing the pleadings and materials submitted by the parties, deem that oral argument would not be necessary or helpful to the disposition of the matter and may instead decide the matter based on the written submission. In those cases, the Court will issue a written order which will be transmitted to the parties in advance of the hearing date.
Courtesy Copies
Pursuant to EDCR 7.26(d), parties are requested to deliver courtesy copies Pursuant to EDCR 7.26(d) parties are requested to deliver courtesy copies (hard copies) of all motions and responsive pleadings to chambers. If all exhibits to a brief have been submitted to Odyssey, the parties should not provide a copy of the exhibits to chambers. However, if a party believes that certain of their exhibits would be helpful to the Court, the party may attach up to 100 pages of exhibits to their courtesy copy.
Default Judgment Prove-ups
Prove-up hearings are required when: 1) The claim is for personal injuries; 2) The total damages sought are in excess of $50,000; 3) The claim is in regard to title of real property; and 4) anytime punitive damages are sought.
Prove-up hearings must be set on the Department´s regular motion calendar through the Master Calendar. Live testimony is required at the prove-up hearing.
Submission of Orders
Department IX requires proposed orders in Microsoft Word format to be submitted to chambers within fourteen (14) days of notification of the ruling. Counsel designated to prepare the order is not required to provide a draft to opposing counsel(s) prior to submission unless so ordered by the Court. Disputes may be resolved by placing the matter on the Department's regular motion calendar for clarification from the Court. In appropriate cases (and most frequently in connection with dispositive motions such as motions seeking dismissal or summary judgment), the Court may draft and file its own order instead of signing an order submitted by one of the parties.
Contested Orders
In District Court Department IX, Contested Orders are handled on a case-by-case basis.
Electronic Signatures
In District Court Department IX will accept electronic signatures on any document.
Jury Selection
Department IX uses the "Modified Arizona Method" of jury selection, requiring voir dire to be directed toward a number of jurors, rather than the entire venire.
Jury Instructions
All parties are to submit an electronic Microsoft Word version (via e-mail to the JEA and law clerk) of uncontested jury instructions no later than one (1) judicial day before trial. Contested jury instructions, as well as an explanation as to why the parties disagree, are to also be digitally submitted in a separate document the day before trial. Should the resolution of any proposed instructions depend upon the evidence or testimony being presented at trial, the settling of those instructions can be deferred until after the close of evidence, but otherwise the Court prefers to settle the instructions expeditiously so as to minimize inconvenience to the jurors.
Verdict Forms
All parties are to submit an electronic Microsoft Word version (via e-mail to the JEA and law clerk) of the verdict form no later than one (1) judicial day before trial is to begin.
Discovery Motions
If Defendant or the State of Nevada believes they are entitled to discovery which a party has not provided, counsel for the parties shall meet and in good faith confer regarding their discovery disputes. If disputes still remain, a party may then file a discovery motion with the Court including an affidavit of counsel stating when and where the parties met and conferred and specific nature of the discovery remaining in dispute. The Court will then consider the party's motion and points and authorities related to the specific discovery issue.

Motions for Production of Discovery, or similar requests, will be taken off calendar unless there is an indication the parties have met and conferred concerning the specific discovery requests. This Court requires parties in making discovery motions to include an affidavit of counsel verifying the parties met and conferred regarding discovery and identifying the specific issues which remain unresolved.
Motions to Withdraw as Counsel in Criminal Cases
In a criminal case, if Counsel seeks to withdraw from the case due to financial issues, they must move to do so at least sixty (60) days before the trial date.