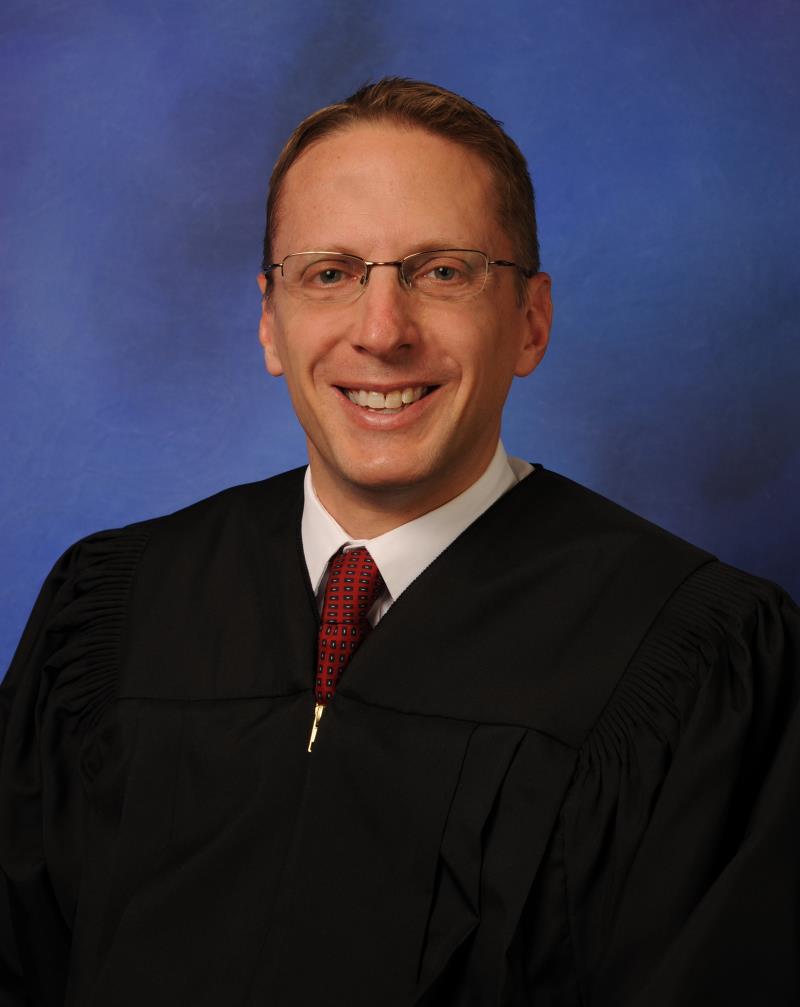 Joe Hardy
Office - (702) 671-4412
Fax - (702) 671-4411
Law Clerk - (702) 671-4409
Email - dept15lc@clarkcountycourts.us
Location - RJC Courtroom 11D
Regional Justice Center
200 Lewis Ave., Las Vegas, NV 89155
Joe Hardy
Department XV
Eighth Judicial District Court
Term of Office 2015 – present
Joe Hardy Jr. is your Clark County District Court Judge in Department 15. Judge Hardy is a third-generation Nevadan who graduated from Boulder City High School. Judge Joe was accepted to Brigham Young University (BYU) with a full tuition scholarship. He remained at BYU for law school and graduated cum laude. Upon graduation, Judge Hardy returned to Clark County and now lives here with his wife and two sons.
While in law school, Judge Hardy externed for Judge Lloyd D. George here in Las Vegas. That was a great experience and first planted the seed or thought for him to one day serve the public as a judge. At the time he was appointed to serve as a judge in 2015, Judge Hardy was co-managing partner in the Las Vegas office of one of the 100 largest law firms in the country. Notably, he represented individuals and business entities in all types of civil litigation, both as plaintiffs and as defendants. As an attorney, Judge Hardy always volunteered for pro bono work and has also done extensive volunteer work for the Boy Scouts of America.
Judge Hardy first ran for judge in 2014. Although he did not win that election, his desire to serve did not decease. Almost immediately after that election, Judge Hardy applied to be appointed as a judge. He was one of 25 applicants for two seats. Through an extremely thorough vetting process, Judge Hardy was selected as a finalist in both seats by the Nevada Judicial Selection Commission and was then appointed by Governor Sandoval to be the district court judge in Department 15.
Judge Hardy handles general civil and criminal cases. He retained his judicial seat in the 2016 election.
Judge Hardy thoroughly enjoys serving our community as the district court judge in Department 15. He routinely volunteers to speak at various public schools throughout Clark County to help educate and enlighten our children about the judicial process.
Courtroom Protocol
No weapons are allowed. There is no eating, drinking, smoking or chewing gum in any courtroom.
Proper courtroom attire is required. No shorts or tank tops are allowed in the courtroom, shoes are required. T-shirts, which show offensive slogans or pictures, are not allowed. Hats should be removed before entering the courtroom.
While in the courtroom, sit quietly when court is in session. Do not talk or whisper. The court proceedings are being recorded by a court recorder and noise can interfere with the preparation of this important record.
All beepers, cellular telephones, and electronic devices must be turned off before entering the courtroom. Avoid reading newspapers, or books in the courtrooms, particularly if your use of such material may be a distraction to others.
Attorneys are expected to maintain the highest ethical standards at all times, and to strictly adhere to the opportunities, requirements, limitations, and deadlines set by the judge. All counsel are to be punctual for all conferences, hearings and trials. They are to be civil to one another as well as to all parties, witnesses, and court personnel - whether in front of a jury or the court.
Current Assignment
Department 15 is currently assigned Civil and Criminal dockets.

Department 15 hears Criminal matters on Tuesdays and Thursdays at 8:30 a.m. and Civil matters on Mondays and Wednesdays at 9:00 a.m.
Motions
Counsel for the moving party is required to submit physical, paper courtesy copies of all related briefing, affidavits, and exhibits, including those filed by other parties at least five judicial days prior to the scheduled hearing pursuant EDCR 2.20(g) and 7.26(d). All courtesy copies must be hand delivered to Department 15's chambers box (RJC, 11th floor), be single sided with all exhibits tabbed, and comply with EDCR 2.27. Failure to provide the Court with courtesy copies may result in your motion being denied or continued to a later date to allow counsel to provide courtesy copies to the Court.

Unopposed motions may be granted in advance of the hearing date if an opposition is not timely filed. Counsel is required to appear unless the Motion has been granted by minute order prior to the scheduled hearing date or counsel is otherwise notified by the Court.

Department 15 will consider motions in limine that are submitted as independently-noticed motions or as omnibus motions. In any case, subjects of each motion in limine must be numbered and there can be no redundantly numbered motions in limine for any individual party. Parties have a responsibility to resolve undisputed motions in limine prior to hearing pursuant to EDCR 2.47. Any motion in limine filed MUST be supported by an affidavit of counsel which contains ALL appropriate elements required by EDCR 2.47. The Court will not consider motions in limine which are not in compliance with EDCR 2.47.

All motions seeking an extension of time to serve a party may be submitted to Chambers for processing without placing the matter on the Court´s calendar. A courtesy copy of the filed Motion (along with the proposed Order) should be delivered to Department 15 upon filing of the Motion with the Court.

Ex parte applications for Temporary Restraining Orders should be submitted to chambers for review, upon which time the Court will determine whether to issue an Ex Parte TRO and schedule a hearing for the Preliminary Injunction, or whether a hearing is necessary before the issuance of any injunctive relief.

Generally, the following motions are considered without oral argument: Additur, Amend Complaint, Withdraw as Attorney of Record, New Trial, Compromise of Minor's Claim, Good Faith Settlement, Judgment Against Garnishee, Interplead Funds, Release Funds, Associate Counsel, Reconsideration, Intervene, Petition for Judicial Review, Substitute Parties, Appeals from Justice Court.

Motions to withdraw as counsel are placed on Chambers Calendar. Notice must be provided to the client and all parties. Withdrawing counsel must comply with EDCR 7.40 and also provide the last known email address of the client in the motion.
Stipulations
With good cause shown, Department 15 will approve stipulations to extend response deadlines, stipulations to extend discovery, and stipulations to continue trial. If good cause is not shown, a show cause hearing may be set.
Default Judgments
All applications for default judgments for a total monetary award of less than $100,000 with a sum certain may be submitted to Chambers. All applications for default judgments for a total award of $100,000 or more and applications seeking non-sum certain dollar amounts (pain and suffering, punitive damages, future damages, title to property, etc.), must be set on the Court´s regular motion calendar. A copy of the application with a notice of hearing must be mailed to defendant's last known address, if any. A courtesy copy of any application for default judgment must be delivered to Department 15 (along with the proposed Default Judgment) upon filing of the application with the Court. While the Court prefers witnesses testifying live at the prove-up hearing, telephonic testimony is acceptable as long as arrangements are made with Chambers prior to the hearing.
Orders
Proposed orders to be submitted to Chambers within ten (10) days of notification to the parties pursuant to EDCR 7.21. Counsel designated to prepare the order must provide the draft order to non-drafting counsel for review prior to submission. Disputes may be resolved by submission to Chambers of a proposed order copied on all parties, with or without a draft of a competing order. A hearing shall only be set if counsel files a Motion for Reconsideration or Clarification, and counsel is unsatisfied with the proposed order the Court elected to sign.

When counsel are unable to agree on the language of an order, counsel should submit their proposed order to Department 15, with a written statement outlining the differences in the competing orders. If a redline copy is available, counsel may also submit that document. No additional argument should be provided. Rather, the statement should be limited to identifying the language believed to be incorrect, and directing the Court to the alternate language believed to be incorrect, and directing the Court to the alternate language proposed. If after considering the proposed orders the Court believes additional input from counsel is necessary, the Court will so advise. Submissions to the Court containing substantive argument on the merits of a contested issue are disfavored, viewed as improper ex parte communication, even if copied to opposing counsel, and will, generally, be disregarded.
Electronic Signatures
Judge Hardy accepts facsimile, electronic, and typographical signatures, subject to EDCR 8.07(c). On stipulations, signatures may be facsimile, electronic, or typographical, provided the submitting party has written permission from the signing party or attorney for such.
Discovery Commissioner assigned
Discovery matters for Department 15's general civil docket are heard by Discovery Commissioner Bulla. Discovery matters for Department 15's business court docket are heard by Judge Hardy and may be addressed by motion and hearing or by a scheduled telephonic conference. Requests for shortened time will be considered. In all instances, counsel must comply with EDCR 2.34.
Jury Selection
Department 15 uses the "Arizona Method" of jury selection, requiring voir dire to be directed toward the minimum number of jurors necessary to be qualified, rather than the entire venire. Peremptory challenges are exercised on a chart after enough jurors are passed for cause.
Minor's Compromise
All Petitions to compromise the claims of minors may be submitted to Chambers for processing without placing the matter on the Court´s calendar. A courtesy copy of the filed Petition (along with the proposed Order) should be delivered to Department 15 upon filing of the Petition with the Court. Pursuant to NRS 41.100(3)(b), Department 15 requires, in addition to the medical provider's records of expenses charged, records of any reductions obtained, such that the Court has a record of the actual expenses incurred. Department 15 requests that medical records only be submitted to Chambers rather than being filed. If medical records are filed, Department 15 requires the Petitioner to file a motion to redact pursuant to Nevada Rules for Sealing and Redacting Court Records (SRCR) 3. If "restricted personal information" as defined by SRCR 2(6) is filed, the Petitioner must file a motion to redact pursuant to SRCR 3 and EDCR 2.13.
Sealing Records
All Petitions to Seal Records must be filed and served on the District Attorney's office with a Notice of Hearing setting the matter for hearing the law & motion calendar. Prior to filing, Petitioners are strongly encouraged to attempt to obtain approval by the District Attorney's office. All petitions must be accompanied by a copy of the police/arrest report related to each charge included in the petition. Petitioner must also submit an affidavit in support of the petition which must contain a brief biography of Petitioner's life from the date of the arrest to the present, to include basic facts such as education, work and family history, life experiences and/or accomplishments, and arrests and/or charges not eligible for sealing, along with an explanation of why Petitioner seeks to seal petitioner's records at this time.