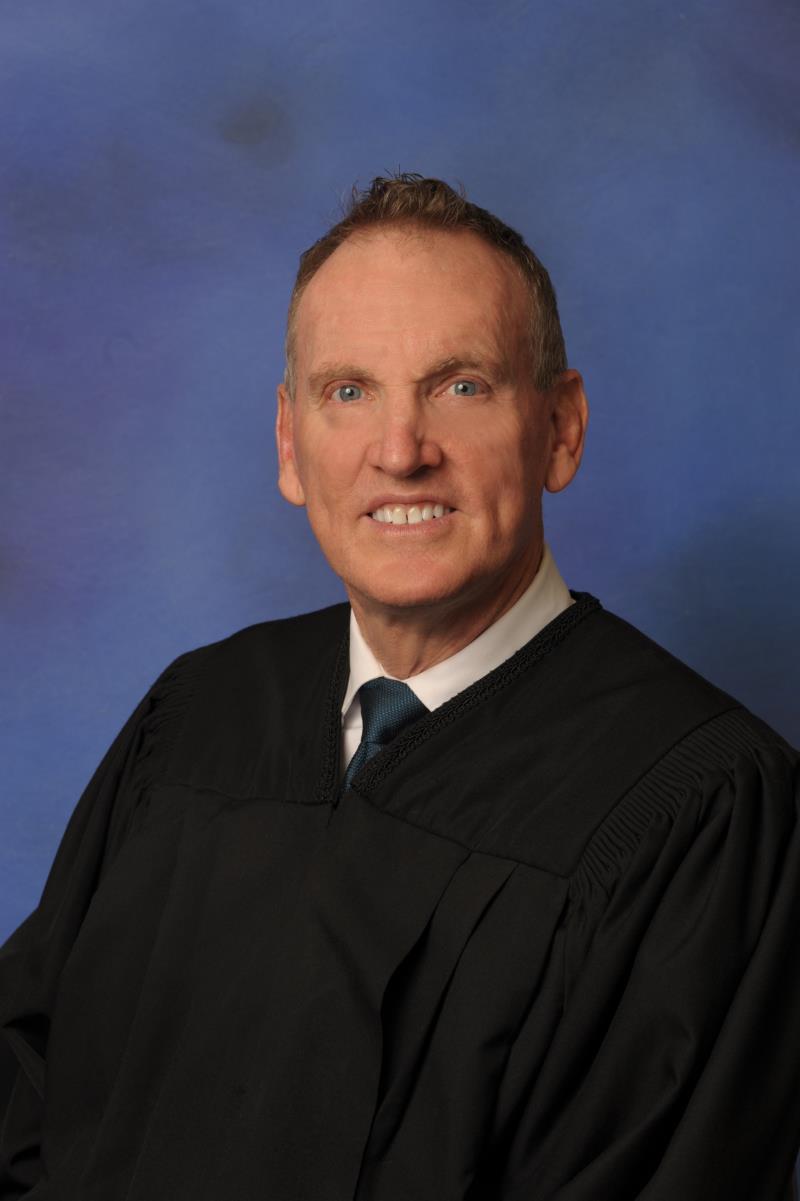 Trevor Atkin
Office - (702) 671-4338
Fax - (702) 671-4337
Law Clerk - (702) 671-4335
Email - dept08lc@clarkcountycourts.us
Location - Phoenix Building Courtroom 11th FL
Phoenix Building
330 S. 3rd St, Las Vegas, NV 89101
Biography
Trevor L. Atkin
Department VIII
Eighth Judicial District Court
Term of Office 2019 – present
The Honorable Trevor L. Atkin was appointed by Governor Sisolak to serve for the Eighth Judicial District Court, Department VIII, in Clark County, Nevada, in September 2019. His current assigned docket is all civil matters/cases.
Judge Atkin is a native Las Vegan, having graduated from Bonanza High School in 1980. He received his undergraduate degree from Arizona State University in 1984 and his law degree from University of Pacific, McGeorge School of law in 1987.
Before being appointed to the bench, Judge Atkin practiced law in Nevada for over 30 years during which time he served as lead counsel in over 30 jury trials and was lead counsel in seven reported Nevada Supreme Court decisions. Judge Atkin during this time specialized in jury trials in a variety of practice areas, including insurance, commercial litigation and general liability.
Judge Atkin started his legal career with the law firm of Edwards, Hunt, Hale & Hansen in 1987, earning partnership in 1991. He later was one of the founding partners of Atkin Winner & Sherrod in 2004 where he served as primary trial counsel and managing partner – overseeing the work of 17 attorneys. Between 2004 and his appointment in 2019, he oversaw his firm grow from 8 employees to 48 full-time employees. It was during this time that Judge Atkin earned his A-V Preeminent legal rating from Martindale-Hubbell in 2004, and was elected as a member of the American Board of Trial Advocates in 2011.
Aside from his legal work, Judge Atkin served as an adjunct legal instructor with the University of Nevada system from 1994 to 1996. He served on the Nevada State Bar Fee Dispute panel from 2000-2003 and was an appointed trustee with the Nevada Law Foundation between 2010 and 2014, whose mission was to provide funding for the legally disadvantaged, to victims of domestic violence, and for the protection of children in need of protection by the juvenile court. Judge Atkin also served as a mentor in the State Bar Mentorship Program for young lawyers. In his spare time, Judge Atkin enjoys volunteering with P.A.W.S. (providing Animals with Support Las Vegas Branch), playing golf, and practicing yoga.
Courtroom Protocol
No weapons are allowed. There is no eating, drinking, smoking or chewing gum in any courtroom.
Proper courtroom attire is required. No shorts or tank tops are allowed in the courtroom, shoes are required. T-shirts, which show offensive slogans or pictures, are not allowed. Hats should be removed before entering the courtroom.
While in the courtroom, sit quietly when court is in session. Do not talk or whisper. The court proceedings are being recorded by a court recorder and noise can interfere with the preparation of this important record.
All beepers, cellular telephones, and electronic devices must be turned off before entering the courtroom. Avoid reading newspapers, or books in the courtrooms, particularly if your use of such material may be a distraction to others.
Attorneys are expected to maintain the highest ethical standards at all times, and to strictly adhere to the opportunities, requirements, limitations, and deadlines set by the judge. All counsel are to be punctual for all conferences, hearings and trials. They are to be civil to one another as well as to all parties, witnesses, and court personnel - whether in front of a jury or the court.
Motion calendar schedule
Department 8 hears Civil Court matters on Tuesdays and Thursdays at 9:00 a.m. and Probate Motion matters on Wednesdays at 10:30 a.m.
Other regularly scheduled court sessions
Calendar Calls are heard on Mondays at 8:30 a.m. the week prior to the scheduled trial date.
Pre-Trial Conferences are heard Tuesdays 5 weeks prior to the trial date.
Trials are set on a 5 week stack on Mondays at 9:00 a.m.
Probate Court matters are heard on Wednesdays at 10:30 a.m.
Court Reporter or a Court Recorder for its official record
Department 8 uses a Court Recorder. Questions regarding the court recording services are to be directed to Ms. Jessica Kirkpatrick at KirkpatrickJ@clarkcountycourts.us or (702) 671-4334.
Telephonic appearance request
Department 8 requires telephonic appearances be made via Court Call. Counsel must seek prior approval from Department 8 for the telephonic appearance and must arrange appearance via Court Call at least 24 hours prior to their scheduled hearing by contacting Court Call directly at 888-882-6878.
Unopposed motions
Department 8 will grant unopposed motions in advance of the hearing date. Counsel is only required to appear if the Motion has not been granted prior to the scheduled hearing date.
Submission of Orders
Department 8 requires proposed orders to be submitted to chambers within ten (10) days of notification of the ruling, pursuant to EDCR 7.21. Counsel designated to prepare the order is required to provide a draft to opposing counsel(s), allowing for a reasonable opportunity for review and comment. Disputes may be resolved by submitting Competing Orders to chambers with a letter merely stating that there is a "disagreement as to the wording of the Order".
Contested Orders
In Department 8, when counsel are unable to agree on the language of an Order, counsel should present their competing positions in a Word document emailed to the Law Clerk with no additional argument or explanation. If a redline copy is available counsel may also submit that document. Generally the Court will enter an Order after reviewing the competing versions and any record of the hearing. If the court after considering the proposed orders, may set a conference call to obtain additional information or argument from counsel.
Default judgment prove-ups
A Default Judgments for a total award of less than $50,000 may be submitted to chambers. All Default Judgments for a total award of $50,000 or more must be set on the Department's regular motion calendar. Live testimony is required at Default Judgment Prove-Up hearings.
Electronic signatures
Department 8 does not accept electronic signatures on proposed orders.
Jury Selection
Department 8 uses a modified "Arizona Method" of jury selection. The court allows counsel to voir dire the prospective jurors individually and/or as a panel.