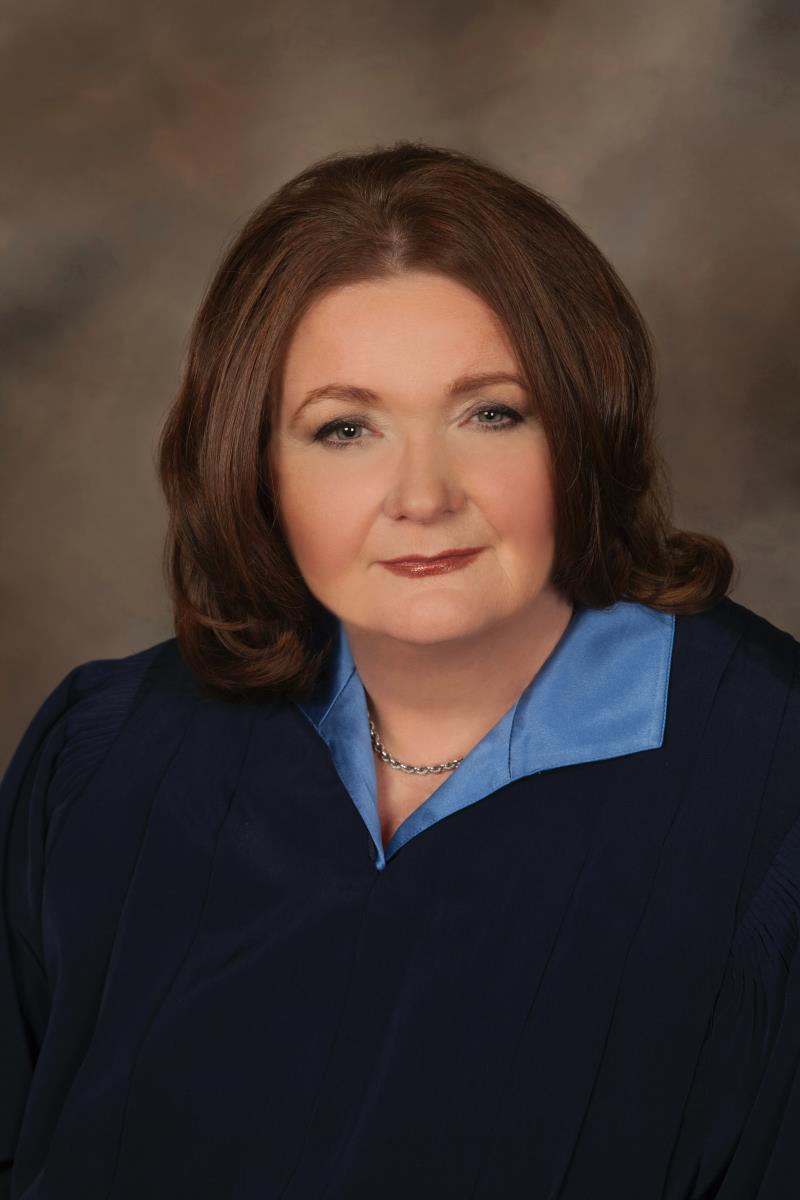 Gloria J. Sturman
Office - (702) 671-3628
Fax - (702) 366-1399
Law Clerk - (702) 671-0881
Email - dept26ea@clarkcountycourts.us
Location - RJC Courtroom 10D
Regional Justice Center
200 Lewis Ave., Las Vegas, NV 89155
Gloria J. Sturman
Department XXVI
Eighth Judicial District Court
Term of Office 2011 - present
Judge Gloria Sturman took the bench in Department 26 January 3, 2011. Prior to her election in November, 2010 Judge Sturman practiced law in Las Vegas for over 27 years. Judge Sturman graduated cum laude from Arizona State University, in 1979 with a BS in Business, and from Arizona State University College of Law in 1982. Judge Sturman was admitted to practice law in Arizona in 1982 and in Nevada in 1983. While in private practice, Judge Sturman focused primarily on the defense of governmental entities, employment defense, and professional malpractice defense including allied medical professionals, attorneys, accountants and realtors. As a practicing attorney, Judge Sturman received an A-V ranking in Martindale-Hubbell for her legal ability and high ethical standards.

Judge Sturman defended a variety of matters, and tried over twenty jury trials to verdict. These cases include automobile accidents, premises liability claims, and products liability claims. Judge Sturman represented Clark County in a variety of claims, from employment claims, to premises liability, to professional negligence. Judge Sturman also handled employment matters at the administrative and litigation stage, and consulted with employers on a variety of pre litigation and human resources matters. Judge Sturman argued to the Ninth Circuit and the Nevada Supreme Court on a number of occasions, including several civil rights matters on behalf of Clark County.

Prior to her election, Judge Sturman had extensive pro temjudicial experience. She served for seven years as a court appointed arbitrator, and presided over a number of jury trials as a Judge pro tem in the Short Trial Program. Judge Sturman was also appointed by the Clark County Commission to serve as a Justice of the Peace pro tem in 2004. Judge Sturman taught Civil Procedure in the Community College paralegal training program for three years, and lectured at continuing education programs for attorneys and legal assistants on legal ethics, construction defect, and insurance issues, in addition to lecturing on municipal liability to building inspectors.
Judge Sturman has a record of service to the bar and her community. She served on the boards, and was elected President of, several bar and non profit organizations, including the State Bar of Nevada (President 2002-2003), Clark County Bar Association (President 1994-1995), Southern Nevada Association of Women Attorneys (President 1988-1989), Las Vegas-Clark County Library District, Board of Trustees (President 1996-1998). Judge Sturman was also a member of the boards of the Frontier Girl Scout Council Board of Trustees (1991-1994), Las Vegas Art Museum Board of Directors (1999-2001), National Conference of Bar Presidents, Board (2003-2006 , and Chair Diversity Task Force 2005-2006).
Courtroom Protocol
No weapons are allowed. There is no eating, drinking, smoking or chewing gum in any courtroom.
Proper courtroom attire is required. No shorts or tank tops are allowed in the courtroom, shoes are required. T-shirts, which show offensive slogans or pictures, are not allowed. Hats should be removed before entering the courtroom.
While in the courtroom, sit quietly when court is in session. Do not talk or whisper. The court proceedings are being recorded by a court recorder and noise can interfere with the preparation of this important record.
All beepers, cellular telephones, and electronic devices must be turned off before entering the courtroom. Avoid reading newspapers, or books in the courtrooms, particularly if your use of such material may be a distraction to others.
Attorneys are expected to maintain the highest ethical standards at all times, and to strictly adhere to the opportunities, requirements, limitations, and deadlines set by the judge. All counsel are to be punctual for all conferences, hearings and trials. They are to be civil to one another as well as to all parties, witnesses, and court personnel - whether in front of a jury or the court.
Current Assignment
Effective November 18, 2019, Department 26 is assigned a split docket of civil and probate
Motion calendar schedule


Tuesdays
9:00am: Civil Status Checks, Unopposed Motions, Routine Motions
9:30am: Motions for Summary Judgment, Motions to Dismiss, Injunctions
Wednesdays
9:00am: OST's (set by Court)
9:30am: Rule 16 Conferences (every other week)
10:00am: Petition for Judicial Review; Lower Court Appeals (Set by Court)
10:30am: Pre Trial Conferences (set by Court)
Thursdays
9:00am: Calendar Call - Once per month
9:00am: Default Judgements/Post - Trial Motions in Closed Cases (Set all weeks other than Calendar Call) Post Trial Motions include; Motion for Attorney Fees and Costs, Motion to Retax Costs, Motion for New Trial, Motion for Relief from Judgement of Amended Judgement
9:30am: Probate Cases
10:30am: Pre Trial Conferences (Set by Court)
Other Regularly Scheluded Court Sessions
Mandatory settlement conferences are available once a month, evidentiary hearings are set on an as needed basis.
Regular chambers calendar
Dept. 26's chambers calendar is set every Friday. Motions that can be set for Chambers are:
Amend Complaint Compromise Minor's Claim
Extensions of Time to Serve/Publication
Reconsideration
Substitute Parties
Associate Counsel
Pro Hae Vice Confirm Arbitration Award Judgment against Garnishee
Seal/Redact Records-Except Criminal
Withdraw as Counsel
Associate Counsel/Pro Hae Vice
Confirm Arbitration Award
Judgment against Garnishee
Seal/Redact Records-Except
Criminal Withdraw as Counsel
Discovery Commissioner assigned
Commissioner Erin Truman- all requests for extensions of discovery deadlines and/or continuation of trial dates are heard by the Department. The Department is also responsib le for conducting Mandatory Rule 16 Conferences and will set same upon submission of JCCR. Trial De Novo requests must show payment of the filing fee and submission of the JCCR within 60 days for a Mandatory Rule 16 Conference. Any case not in compliance, will be issued an Order for Status Check to explain the delay.
Telephonic appearance request
Dept. 26 utilizes CourtCall for all telephonic appearances in civil and probate cases. Contact CourtCall (1-888-882-6878) after securing permission from Linda Denman, JEA. Counsel may appear via CourtCall for status checks or unopposed motions; however, requests for telephonic appearance for opposed motions will not be granted unless counsel has a compelling reason.



Unopposed motions
Dept. 26 may grant unopposed motions in advance of the hearing. Counsel can check Odyssey and see if the hearing has been vacated and a minute order issued. Advance decision minute orders are sent by the Clerk to all parties. If an advance decision has not been issued, counsel should attend the hearing as the Court probably has questions.
Default judgment prove-ups
All Default Judgments for a total award of less than $50,000, and based on a written contract, should be submitted to chambers with all supporting documentation. Personal injury claims of $50,000 or less may require testimony; if so, the law clerk will return the packet with instructions to set for hearing. Any default over $50,000 or involving title to real property,must be set for hearing. Live testimony at the hearing can be conducted via CourtCall; witness should have a notary public present to administer the Oath.



Submission of Orders
Dept. 26 requires proposed orders be submitted to chambers within ten (10) days of notification of the ruling, pursuant to EDCR 7.21. Prevailing counsel is required to provide a draft to opposing counsel(s), allowing for a reasonable opportunity for review and comment. Non-drafting counsel's signature is for the purposes for stating they have read and approve as to form and content. If they will not sign, submitting counsel should include a cover letter explaining they were given the opportunity but refused to sign.
Contested Orders
In Dept. 26, the Judge will sign the Order that most appropriately states the Court's ruling. The Order not accepted will be left side filed into the case. An explanatory letter citing the.disputes in the Orders should be attached to any contested order, with a copy to opposing counsel.
Electronic Signatures
In Dept. 26, we require all parties have original signatures on documents that require the Judge's signature; however, a fax signature of out-of-town counsel is acceptable with moving counsel providing an ink signature and explanation for the fax signature.
Jury selection
Dept. 26 uses the "Arizona Method" of jury selection, requiring voir dire to be directed toward the minimum number of jurors necessary to be qualified, rather than to the entire venire. See Exhibit Guidelines and Trial Preparation Guides referenced above.
Courtesy Copies
Counsel must deliver to Chambers hard copies of all documents that Counsel would the Court to consider. The copies are to be delivered five days prior to the hearing; documents over ten pages should be single sided, bound and tabbed.
Probate
Dept. 26 is assigned 80% of the Probate Calendar and hears matters REFERRED pursuant to EDCR 4.08. Probate Commissioner Wesley Yamashita is the hearing master and all Petitions and Orders for Cremation; Medical Records, Opening Safe Deposit Boxes; and Set Asides should be submitted directly to Probate Commissioner. Status of Orders can be found at the website http://www.clarkcountycourts.us/departments/probate/ under The District Court Probate Pic kup List. Any questions relating to matters heard by the Probate Commissioner should be directed to the Probate Office at 702-455-2650.
Objections to Probate Commissioner's Report and Recommendation need to be set for hearing before the assigned Judicial Officer. The words "Hearing Requested" must be included on the document below the Department Number to alert Master Calendar that a hearing needs to be set. Following the Court's decision on the Objection, the matter is returned to the Commissioner to proceed in the ordinary course.
Upon the filing of a timely request for referral to the District Judge pursuant to EDCR 4.08, all future hearings will be set by Master Calendar on this Court's calendar. In the event the case is referred back to the Commissioner, hearings will then be set on the Probate Commissioner's calendar .