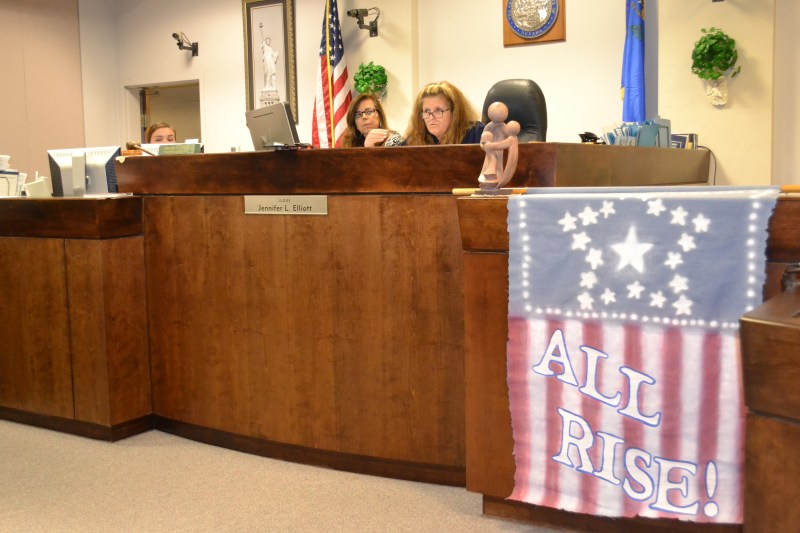 Children from three families will now have the most important person in the world back in their lives, after two mothers and one father recently graduated from the Eighth Judicial District mothers'/fathers' specialty court. All three completed a rigorous in-patient treatment program, that involved spending between six and 12 months in the WestCare treatment facility learning a new way of life.
The graduation was attended by Judge Jennifer Elliot who presides over the Dependency Mothers' Drug Court, the treatment providers, specialty court staff and fellow specialty court participants. The fellow drug court participants got to see how successful recovery looks. They got to witness someone in a situation much like their own, turn their life around, have their children in their lives in a meaningful way, and leave drugs and crime behind.
When judges enter a courtroom, all rise as a sign of respect. Judge Elliot and the courtroom gallery all rise when participants graduate from the mothers'/fathers' specialty court. The children of the graduates now have the person who loves them, the way only a parent can, back in their lives making them dinner, helping with homework, giving them love, and being part of their dreams. Their families and our community are better for it.
Since 1992, the Eighth Judicial District Court has been responding to the emerging social issues of addiction and mental health by establishing specialty courts. Each day, the court handles cases on the many crimes committed by people addicted to illegal drugs or suffering from mental illness. The Dependency Mothers' Drug Court is a partnership between Nevada's Division of Child and Family Services, Clark County Department of Family Services, Clark County Specialty Courts and WestCare of Southern Nevada. Components that make the program work are early intervention services, coordinated clinical assessment, coordinated case management, program referral, residential treatment services including reunification services, parenting skills education, outpatient support services, staff training support and client transportation.