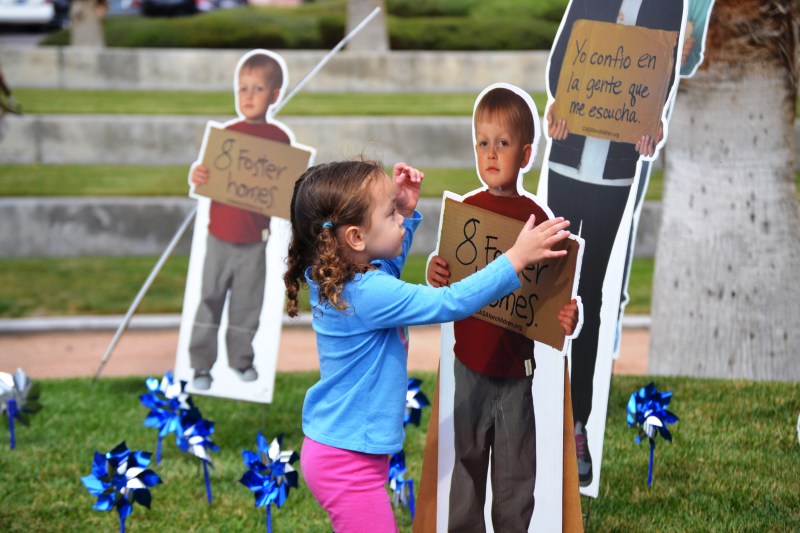 Friday, April 7 was a warm and windy day. A group of Court Appointed Special Advocate (CASA) volunteers braved the winds to plant 300 pinwheels to attract attention and make a point. April is child abuse awareness and prevention month. The pinwheels are supposed to draw attention to the issue and hopefully spurred interest for people in the community to get involved to help by volunteering as a CASA.
Karen Barfield showed up for the pinwheel event with a hat and gloves, ready to take on the challenge in the same way she has taken on the challenge of serving to speak up for abused and neglected children. Karen has been a CASA volunteer for seven years. A few years ago in another city, she was a foster parent. From her experience, she knew that children in foster care need an advocate to speak up for them in court. As a foster parent in another state who cared for children, she didn't have a say in court on what happened to them and what was in their best interest. As a CASA she does. That's why she got involved in CASA. She said, "I get satisfaction that maybe I'm helping a child start a normal life."
Jacqueline Phillips is a retired corrections sergeant. She served the North Las Vegas Police Department for 26 years and has seen first-hand what years abuse and neglect does to people. Jacqueline has been a CASA for five years. It's her way of breaking the cycle. She praised the CASA team and said she that she never feels alone and gets a lot of support with helping the children in her cases.
Sheila Taube is retired clinical psychologist who has been a CASA for just over a year and a half. She said, "I care about the kids. I let my voice be heard by the court." Her deep green eyes light up when she descries the children she helps and four year old girl and her little 2-year-old brother who she calls, "a fire engine."
The CASA program recruits, screens, trains and supports volunteers to represent the best interests of hundreds of foster children annually. The advocates represent the children in school, child and family team meetings, and in court. Volunteering for the program involves a two-year commitment and a willingness to spend quality time with the children to advocate for them. In 1980, Judge John Mendoza led the creation of the Clark County CASA Program. The CASA mission continues to be fully supported by Family judges.
For those interested in volunteering with CASA, monthly orientations are held on the third Wednesday of each month to provide more information about the program. Upcoming orientations will be held at the Government Center, 500 S. Grand Central Pkwy. For more information about the program please call 702-455-4306, visit www.casalasvegas.org or Facebook at www.facebook.com/#!/CASALasVegas.