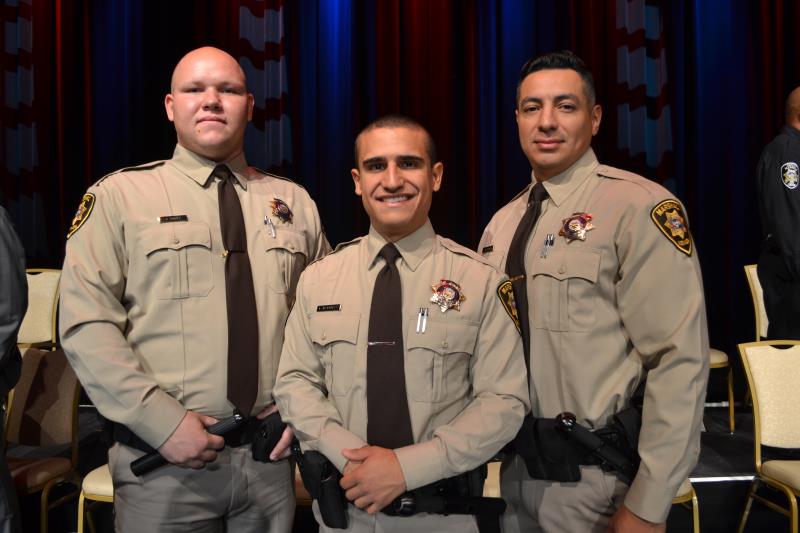 Three new police academy graduates trained up and ready to protect and serve courts after 22 long weeks of tough training including: arms, fight, tactical, vehicular, mental health and other essential training. They are tased, tackled, tormented and tested to their limits to ensure that they can withstand the intense rigors of being in law enforcement. Marshals Jose Astudillo, Carlos Barreras and Joseph Posey are the new graduates from the Southern Desert Regional Police Academy and recent additions to the Security Division of the Eighth Judicial District Court.
District Court Chief Judge Linda Bell pinned the badges on the new graduates and swore-in the graduating class. Top brass from law enforcement agencies from across Southern Nevada were present to pin badges on their new officers including the city of Las Vegas, North Las Vegas, the Nevada Division of Wildlife and University Police Services.
District Court is looking to recruit others who would like to make the grade and serve as a marshal. Military veterans are encouraged to consider joining the marshal force. The court is working with the Las Vegas Urban League, Nevada Partners, the Nevada Department of Employment Training and Rehabilitation and the College of Southern Nevada to sponsor military veterans for the Criminal Justice Academy P.O.S.T. certification. Those interested in applying should complete a bailiff/deputy marshal application from the county website employment section.
HTTP://WWW.CLARKCOUNTYNV.GOV/DEPTS/HUMAN_RESOURCES/PAGES/EMPLOYMENTOPPORTUNITIES.ASPX.