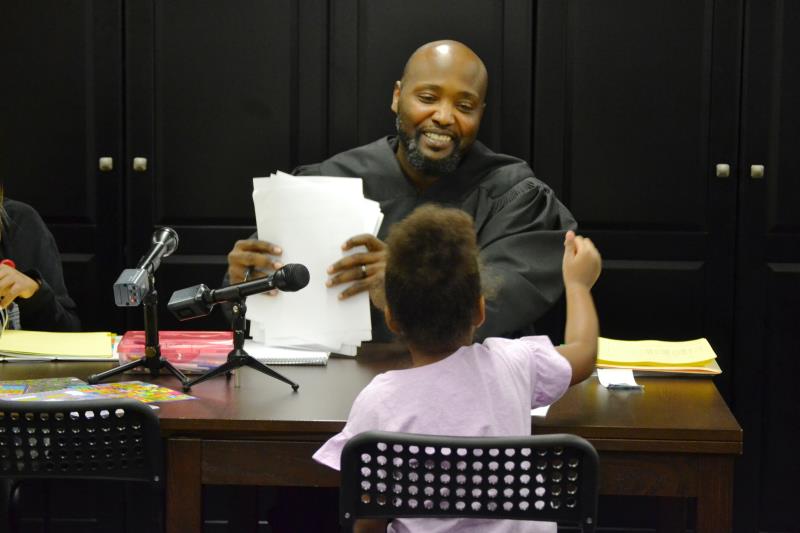 Truancy Diversion Program (TDP) volunteers who motivate students to stay in school and graduate have achieved sweet success. To acknowledge that success, the volunteer judges who visit schools to mentor students will be honored at a dessert reception and given the opportunity to share their experiences of helping students attain an education on Friday, June 7 from 3 p.m. to 5 p.m. in courtroom 9 at Family Court 601 N. Pecos Road.
The Eighth Judicial District Court administers the Truancy Diversion program in collaboration with the Clark County School District (CCSD), the Nevada State Public Charter School and the Achievement School District. More than 1,600 students participated in the truancy diversion program this past school year.
According to data published by the Nevada Department of Education, 2018 was a record high graduation year with 85.2 percent of CCSD students getting their diploma. The District Court Truancy Diversion program has helped to put a dent in chronic absence correlated to high dropout rates. The volunteers visit their designated school accompanied by a TDP facilitator for approximately three hours each week to hold truancy court sessions at schools. They promote and support academic achievement using a team approach to an individual student success plan involving students and their parents. They review the students' attendance, school work, and progress to ensure that they have the resources needed to be successful.
District Court Judge William Voy currently oversee the TDP that was established by Judge Gerald Hardcastle in 2002. "As a judge who hears juvenile cases, I see firsthand the importance of education and graduation," said Judge Voy. "The Truancy Diversion Program has proven to be an effective, non-punitive, incentive-based approach to re-engage at-risk students with truancy problems. It is a proactive way to prevent and reduce youth crime and avert potential costs to our welfare and justice systems."
"Keeping a student engaged in school improves the likelihood that they will graduate and be on a path to success. Without a high school diploma, they face higher prospects of unemployment and difficulties that result," said Presiding Family Court Judge Bryce Duckworth. "We recognize and appreciate the work of the Truancy Diversion volunteers, who are making a real difference in the lives of students, their families and the community as a whole."
The Dispute Resolution Society at the University of Nevada Las Vegas Boyd School of Law assists with volunteer recruitment efforts. Attorneys, mental health professionals or law enforcement officers who are interested in volunteering to mentor students to stay in school should call 702-455-1755.