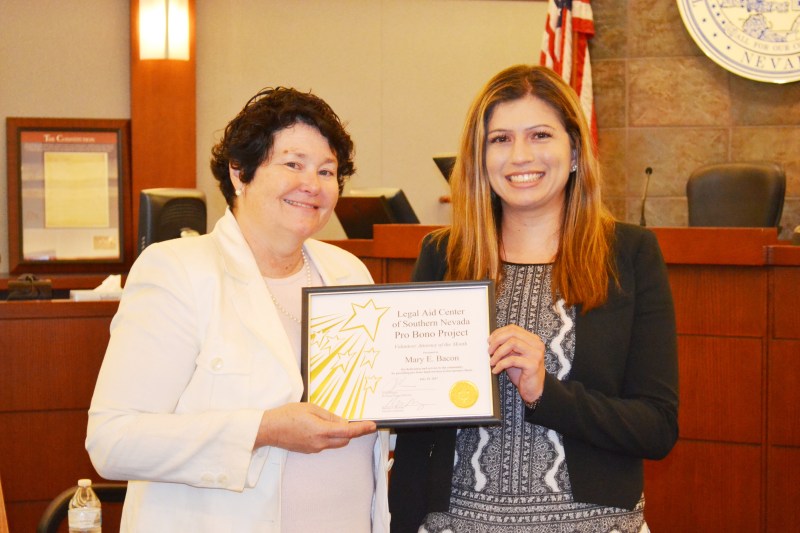 Have you worked with Mary Bacon? Maybe you have worked with someone who worked with Mary Bacon. Mary is an attorney with Spencer Fane, LLP. She is a member of the Women's Leadership Council through United Way and was a member of Leadership Las Vegas' Class of 2016. Mary is also the Legal Aid Center of Southern Nevada June pro bono volunteer of the month. At the July 19 Civil Judges Meeting, Mary Bacon was recognized by the judges of the Eighth Judicial District Court for her volunteer work providing pro bono legal services to low income individuals in need.
Those who have worked with Mary probably know she is a special person. Since she began volunteering with Legal Aid Center of Southern Nevada in 2014, she has accepted eight new pro bono cases in a range of areas, including child abuse and neglect, civil/consumer, domestic violence and divorce. As a regular volunteer with the Landlord/Tenant Ask-A-Lawyer program, she provides free consultations to pro se litigants in need of legal advice.
If you're an attorney and you haven't worked with Mary, you can get within six degrees of separation by volunteering to be a pro bono attorney yourself. Mary and the other lawyers who volunteer their time have shared that they find pro bono work to be very rewarding.
The Legal Aid Center of Southern Nevada informed the judges: "Mary represented a domestic violence victim who suffers from a seizure disorder and who needed assistance with a divorce and support matter. The husband was represented by counsel, and Mary's client felt bullied throughout the negotiation process when she was unrepresented. Mary accepted this case one week before the scheduled trial. The client suffered verbal abuse throughout her marriage and the parties split due to the ex-husband's infidelity. Mary worked on the client's case non-stop for one week, and after several failed settlement offers, Mary showed up ready to try the case. Right before the trial was supposed to start, the parties engaged in a judicially orchestrated settlement. The client received almost three times the amount she had previously considered settling for when unrepresented. After the settlement, the client hugged Mary, and told her that she is now able to start a new life with the settlement she received, and no longer felt dependent upon an abusive ex-husband."
The Legal Aid Center reports that Mary said, "This case touched my heart because I have been fortunate enough to be mentored by strong women who are always happy to assist me and point me it the right direction, and I was so happy to be able to help another woman in such a meaningful way on International Women's Day."
Attorneys who would like to make a difference in the life of someone in need by doing pro bono work, can visit http://www.lacsnprobono.org to get started.