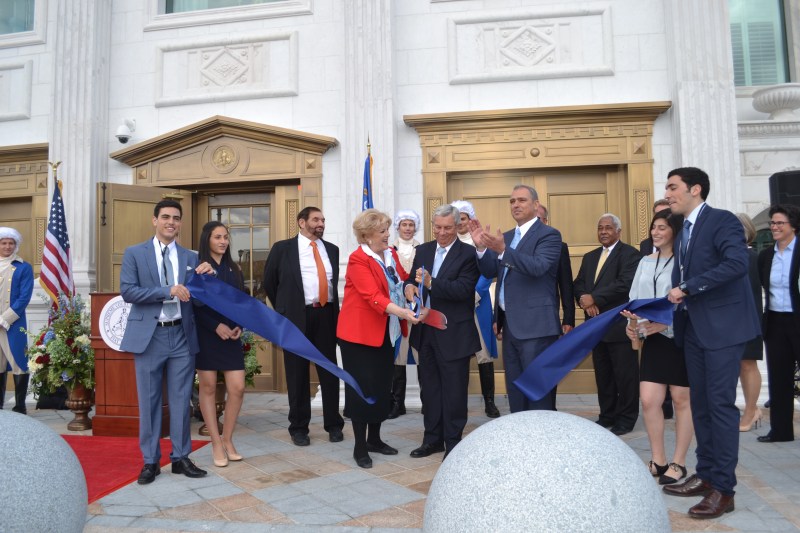 A ribbon-cutting marked the official opening for the new courthouse for the Supreme Court of Nevada and the Nevada Court of Appeals on March 27. A who's-who of officials were present for the celebration that took place on the same day that the Raiders NFL team announced they were moving to Las Vegas. The mood was jovial, and at one point a caravan of Raider revelers drove near honking and celebrating. It was a perfect launch for the latest addition to the downtown "corridor of justice." The new courthouse at 408 E. Clark Ave. was completed in just 14 months. Justice James Hardesty, credited for directing construction was given a standing ovation for his work on the project.
According to a ribbon-cutting program, the new courthouse is intended to reflect the importance of the building's use and the permanence of justice. The Supreme Court courtroom in the basement of Library of Congress in Washington, DC was the inspiration for much of the design. The front doors are bronze and were inspired by the U.S. Supreme Court Building.
The courthouse was constructed using quality materials and fine detail. The 17 counties in Nevada and state and Nevada Supreme Court seals are carved in stone on the eaves. Lady Justice tops a copper dome with her sword at the ready to strike down injustice. There are many other details that make this building special; but to do it justice, you have to see it.