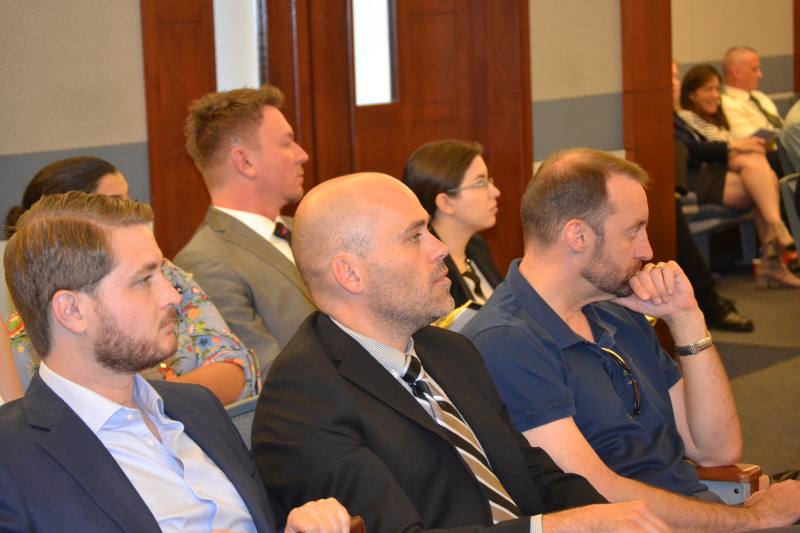 New proposed statewide rules for guardianship were a hot topic at the recent Joint Guardianship/Probate/Trust/Elder Law Bench Bar Meeting. James Berchtold and John Michaelson, who both served on the Nevada Guardianship Commission sub-committee tasked with developing new guardianship forms, provided an overview. The sub-committee that worked on the forms kept pro se litigants in mind as they developed and vetted the forms. It is not clear yet if the forms will be mandatory. The new proposed rules are referred to the Nevada Rules of Guardianship Procedure NRG. The EJDC guardianship rules that the court had been operating under have been suspended.
There are 81 proposed forms for guardianship, totaling 360 pages. The comment period for the proposed rules and forms closes July 5. See the First Interim Report Attached Proposed Guardianship Rules and Forms Filed First Interim Report of the Guardianship Commission.at this link: 18-20489
Comments must be made in writing to the Nevada Supreme Court by July 5, 2018, at 5:00 p.m. to the Nevada Supreme Court Clerk's Office, 201 South Carson Street, Carson City, Nevada 8970.
A public hearing will be held July 18 at 1:30 p.m. in the Nevada Supreme Court courtroom at 201 S. Carson Street in Carson city, NV and video-conferenced to the courtroom at 408 E. Clark Ave in Las Vegas. (Filed Order Scheduling Public Hearing and requesting Public Comment: 18-20646).
Another topic of interest at the joint bench-bar meeting: The Electronic Notary Act is going into effect July 1. Assembly Bill 413 out of the legislative committee on the judiciary has the details: https://www.leg.state.nv.us/Session/79th2017/Bills/AB/AB413.pdf
As of July 1, remote notarization will be allowed in Nevada, one of first three states to adopt the new law governing electronic notarization of documents. Special training and licensure requirements are necessary to perform electronic notarization, including the requirement that the Notary archive the electronic record of the notarization process. The Secretary of State's Office has prepared for the new process, and plans are in the works to have a representative attend a future joint bench-bar meeting to provide an overview of the statutory changes and related regulations, and address questions.
The question of presumptively confidential documents was discussed at the bench-bar. A reminder was given to be cautious about including personal information such as Social Security numbers that can be viewed publicly. Attorneys were directed to ADKT 410 section 6 on redaction https://www.leg.state.nv.us/CourtRules/PCD.html and Supreme Court Rules Part VII Rules Governing Sealing and Redacting Court Records.
Judge Gonzalez asked those in attendance at the bench-bar meeting for comments on processes to improve probate and adult guardianship. A court committee has been established to examine ways to improve those processes. The incoming Chief Judge Linda Marie Bell will chair the committee. Comments can be directed to her office.
The joint bench-bar meetings are a great way to stay current on what's happening in the areas of guardianship/probate/trust/elder law.