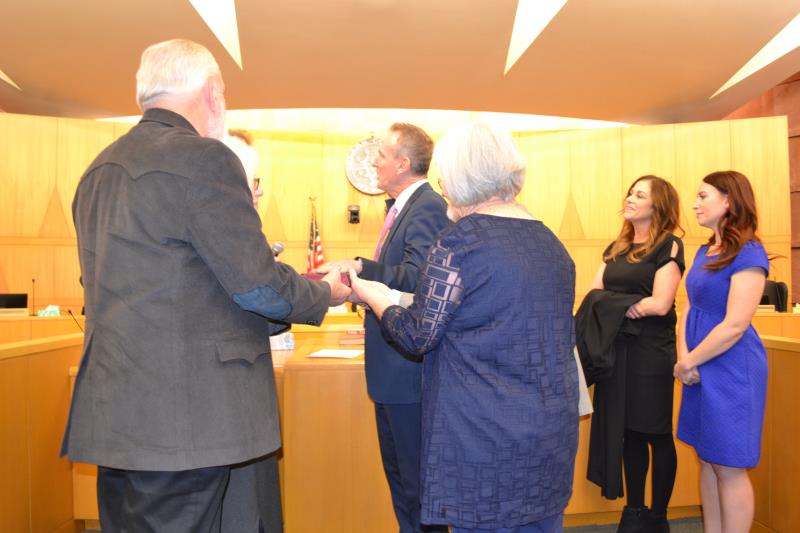 Recently appointed District Court Judge Trevor Atkin pronounced his judicial oath to uphold justice in our community at his investiture ceremony last week. In front of family, friends and fellow jurists, Judge Trevor Atkin swore an oath to uphold the law. He dedicated a significant portion of his speech to thanking the many people who have influenced his life and his career. He offered special gratitude for his wife Debbie.
Judge Atkin express discomfort at being the center of attention at the prestigious gathering and said that he will have earned such a gathering and such kind words many years from now when attorneys are swapping their war stories at court, or over an adult beverage, or mentoring a young lawyer and they say that he couldn't golf. Judge Atkins said he hoped they would say, "He was a good guy - a fair guy - didn't always agree with his rulings, but he was a hard worker, knew the law and he treated every attorney and party equally, fairly and with respect." Judge Atkins said, "That's when I will have earned this robe. You're here to afford me in this very public forum t the opportunity and the privilege of thanking all of you for being an invaluable part in me having the honor the opportunity and to wear this robe. It is such great honor and tremendous privilege, this job of serving this state this county and this community."
Prior to his appointment by Nevada Governor Steve Sisolak, Trevor Atkin practiced as a litigation attorney for 32 years, primarily in the fields of personal injury litigation, commercial litigation and insurance litigation. He served as lead counsel in more than 30 jury trials and served as counsel in seven reported Nevada Supreme Court cases. He established the firm of Atkin, Winner & Sherrod in 2004, where he served as managing partner and lead trial counsel along with his former partners, Thomas Winner and Susan Sherrod, until resigning to take the bench in October 2019.
"Judge Atkin is a great addition to the District Court bench." said Chief Judge Linda Marie Bell. "He joins our court with a wealth of civil experience and an excellent professional reputation."
Judge Atkin is a third generation Las Vegan who attended Las Vegas public schools, graduating from Bonanza High School in 1980. He earned his Bachelor of Arts degree from Arizona State University and received a Juris Doctorate from University of the Pacific, McGeorge School of Law. He was an adjunct legal instructor with University of Nevada system; and a member of Defense Research Institute. He served on the Nevada State Bar Fee Dispute Panel; as a trustee with Nevada Law Foundation; and as a mentor in the State Bar Mentorship Program for young lawyers. He has A-V Preeminent rating by Martindale-Hubbell and is a member of the American Board of Trial Advocates.
Judge Atkin is serving in District Court Dept. 8 in the Phoenix Bldg. with a civil docket.