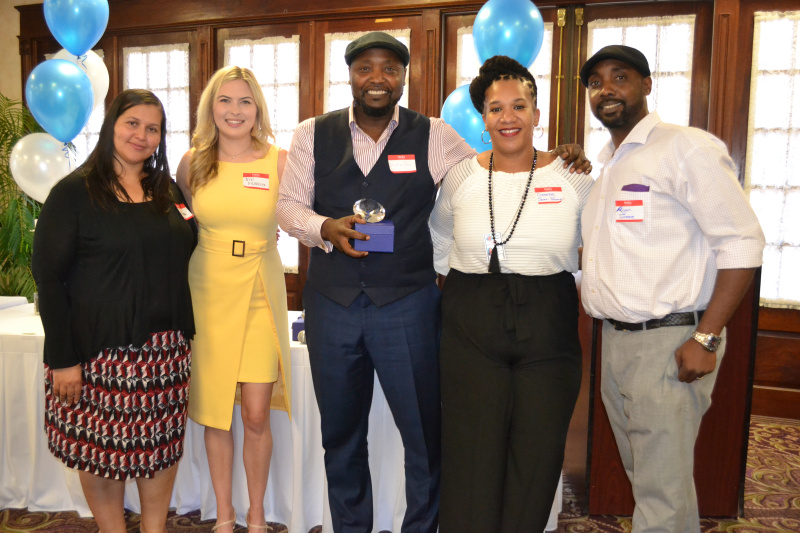 There's a long held belief that showing up is half the battle to achieving success. That belief holds true when it comes to school. A recognition event was held Friday for Truancy Diversion Program volunteers who are in the trenches at schools getting kids to show up. Judge William Voy oversees the program offered by the Eighth Judicial District Court to reduce absenteeism in Clark County schools in an effort to reduce the number of youth entering the formal juvenile justice system. He thanked the volunteers that visit 40 schools as truancy judges. Judge Voy said, "It's unfortunate that this room not twice as full." In 2017, the room was twice as full of volunteers visiting 80 schools, thanks to federal grant funding that has since run out. Schools are now required to pay for the cost of the program out of their budgets. The cost is around $4,000 per school. It is money well spent, according to Judge William Voy, who presides over juvenile cases. Judge Voy said, "The need is there. This program works. Sending them to the juvenile justice system doesn't work."
A report released in Dec. 2017 showed improvement in Clark County graduation rates. According to the Clark County School District (CCSD), one of the key programs to combat habitual absenteeism is the Truancy Diversion Program (TDP). The program not only works with students, parents are also brought in to address the student's school attendance, behavior and grades.
"It does work. We appreciate the volunteer judges, said Dr. Tammy Malich, CCSD Assistant Superintendent. "These kids are our future, they're our community. These are our kids."
Truancy is considered a crime, but many students who miss school frequently aren't just goofing off. They miss classes due to life circumstances. Others don't realize the long-term impact of cutting school. "It all starts with truancy," said Judge Voy. "Keep kids in school, keep them engaged and we can make a difference."
A volunteer judge, accompanied by a social worker (family advocate) and an educational liaison, meet with students identified by the school as truant and their parents. During weekly court sessions at the school, the student's attendance record and behavioral issues are addressed. The TDP judge and staff help students focus on the importance of school success. They set and review goals for attendance, homework completion and appropriate classroom behavior. The program achieves success through this process and positive reinforcement. If needed, family resource centers, shelters, youth services, and/or social service information/referrals are also provided.
The benefits for students are improved school attendance and class participation resulting in better grades needed for graduation. The students are offered support, tutoring/counseling and coached to make and keep goals. Incentives from the program get students excited to achieve and connect with the school community. Families can get counseling referrals for community programs and support services. Parents are offered strategies to facilitate their child's success. The program is intended to build on and strengthen family support. Schools benefit from the program through more engaged and positive students, improved attendance, improved parental links/communication and better student grades.
Licensed attorneys, mental health professionals or law enforcement officers who are interested in volunteering as a TDP judge should call 702-455-1755.
Sincere thanks go to these volunteers for their commitment to help Keep Kids in School and stay on the path to success. IianAcherman, Detective Bernard Plaskett, Randa Shea, Quintin Davis, Shauna Watson, Amelia Hughes, Christopher Guy, Robin Gonzales, Cory Juelke, Luchana Turner, Joyce Gallina, Douglas Clark, Radha Chanderraj, Mary Perry,Rick Morales, North Las Vegas Justice Court Chief Judge KalaniHoo, Kim Webb, Paul Haire, Jennifer Somma, Kevin Speed, Carlos Morales, Brigid Duffy, Scott Vaughn, Lisa Szyc, Paul Turner, Juliana Berry, Darlene Stein, Lana Croft, Matthew Fox
Christopher Guy volunteer for Truancy Diversion Program/Keeping Kids In School