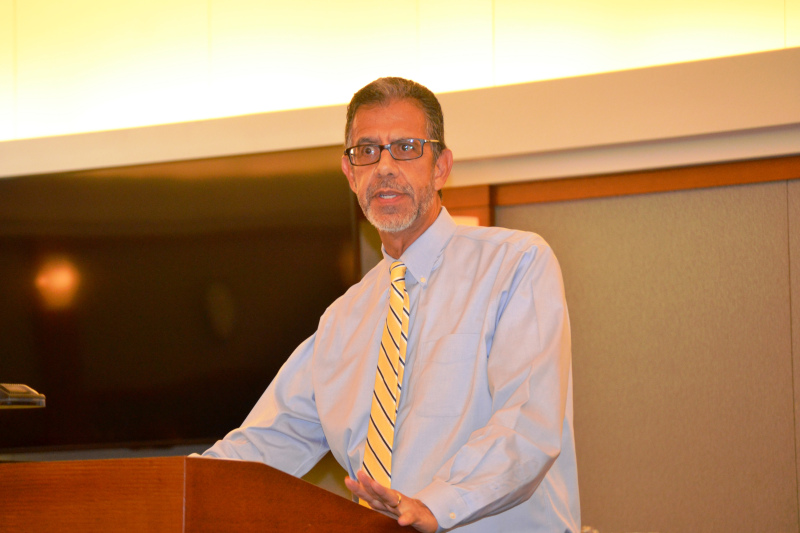 Last year, Judge Elizabeth Gonzalez issued Administrative Order 17-05 that rolled-out a pilot project on July 1, 2017 to begin to examine the potential benefits of centralizing the management for homicide cases with the intent of improving efficiency in the management and timely disposition of such cases.
The Homicide Case Team was established consisting of four district judges including Judge Douglas Herndon, who also serves as the team's case management judge, Judge Valerie Adair, Judge Jennifer Togliatti and Judge Eric Johnson. Judge Michelle Leavitt recently joined the Homicide Case Team and Judge Johnson resumed a civil/criminal caseload in July 2018. The team handles all of the homicide cases filed in Clark County. The intent is to improve the ability to schedule cases with viable dates for trials, and implement rigid case management protocols with the parties regularly reporting their progress in court. By limiting homicide cases to just four judicial departments, the courts have improved the ability to bring consistency to the handling of the homicide cases, and enabled more realistic trial settings. The change also facilitates the ability of the judges to ensure that discovery obligations are met, and investigations and preparation for trial are done.
At a recent criminal judges meeting, Judge Michael Villani, who serves as the presiding criminal judge, recognized the homicide team of judges, the attorneys and the jail staff for the rigorous work they've done processing cases. In just over a year, they have accomplished a lot.
Detention Transition Services Coordinator Sandy Molina, with the Clark County Detention Center, gave a brief report on the major impact on closing cases the homicide team has had on the county and jails. She conveyed that after the July 1, 2017 kickoff, it took four to six months to fully ramp up. In just one year, $1,284,840 has been saved from 8,566 saved Clark County Detention Center bed days for 83 people.
These results are important because money and wasted resources are saved. The bed days saved also help to address the critical state of jail overcrowding and improve safety at the jail.
Most importantly, the families of homicide victims are seeing cases brought to resolution in a more timely fashion, allowing them to begin the process of moving on with their lives.
Part of the impetus for the pilot came from the Nevada Supreme Court Commission on Criminal Procedure, overseen by Justice Michael Cherry and Justice Michael Douglas. A subcommittee on Criminal Trial Practice for Life/ Death Penalty Cases offered input from the Clark County offices of the District Attorney, Public Defender, Special Public Defender, the Office of Indigent Counsel, and their counterparts in Northern Nevada.