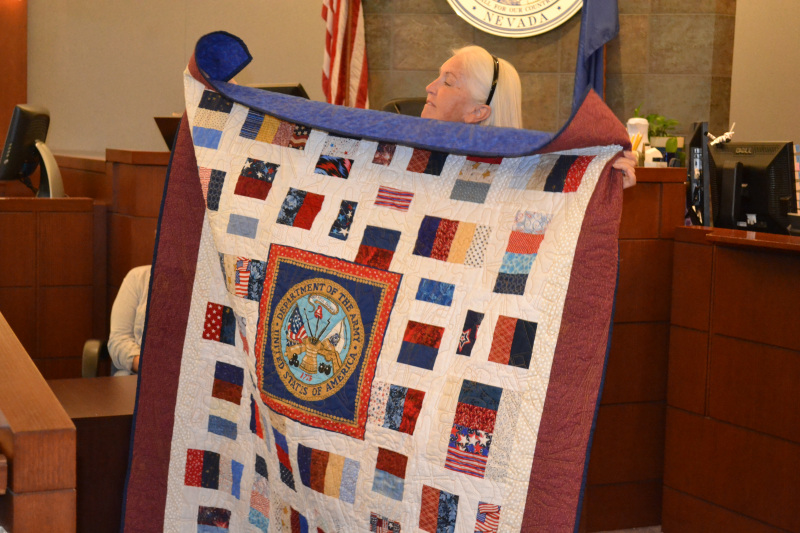 A chili cook-off at the Regional Justice Center raised more than $700. for Quilts of Valor. A check was presented to the Nevada state coordinator for the Quilt of Valor Foundation, Victoria Colburn Hall at a recent Veteran' Court graduation ceremony. Judge Linda Bell presides over the Veteran' Court program.
Veterans' courts are hybrid drug and mental health courts that use the drug court model to serve veterans struggling with addiction, serious mental illness and/or co-occurring disorders. They promote sobriety, recovery and stability through a coordinated response that involves cooperation and collaboration with the traditional partners found in drug and mental health courts and agencies.
Quilts of Valor presents Veterans Court graduates a Quilt of Valor a quilt to comfort them as they build their new lives. Victoria is a Blue Star mom; her son spent 24 year in the Marine Corp assault unit. She awarded two vets at the chili cook-off Quilts of Valor for their service and gave a brief overview of the foundation.
The cook-off was planned to mark Veterans' Day. The Quilt of Valor Foundation was founded in 2003, by Blue Star mom Catherine Roberts from her sewing room. Blue Star moms are those who have a son or daughter in active service. Her son Nathanael's deployment to Iraq served as the initial inspiration for the foundation. That has since presented thousands of quilts nationwide to those who have served our country.
The local chapter of Quilt of Valor meets the second Friday of the month at 8670 W. Cheyenne Ave. from 8:30 a.m. to 12:30 p.m. in room 105. Volunteers are always welcome; no quilting experience is necessary. For more information call 702-357-0377.