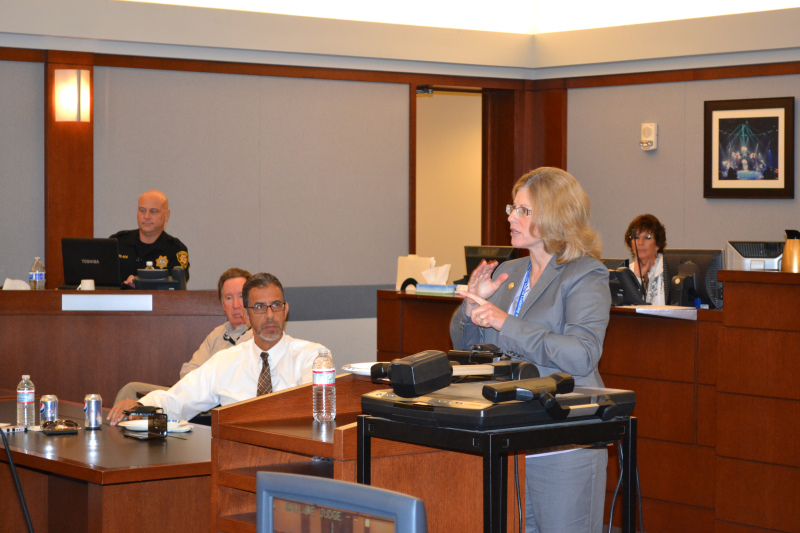 On July 1, the new fiscal year begins. The new year brings a new chief judge and presiding judges at District Court. Judge Linda Marie Bell was elected to replace outgoing Chief Judge Elizabeth Gonzalez. The chief judge maintains responsibility for managing the administration of the court. Judge Bell will continue to hear specialty court cases during her tenure in the chief judge post. Judge Gonzalez will return to hearing civil, business and mental health court cases.
Judge Michael Villani will take over as the criminal presiding judge from Judge Doug Herndon. Judge Jerry Wiese will take on the post as the presiding civil court judge from Judge Susan Johnson. Presiding judges manage the business of their respective division.
On her last day as chief, Judge Gonzalez sent out a thank you to court employees. "I wanted to express my gratitude to each of you to your hard work in making our Court more accessible to the community. We have worked as a team to improve our time to disposition and access to all of our community. The work we have done as a group is a testament to each of you. The courtesy and respect shown to those who appear in our court system is something of which I am very proud. Thanks again to all for your contributions to this success," said Judge Gonzalez. "The court administration team worked tirelessly in support of our strategic goals. Those of you who work behind the scenes in administration and the clerk's office keep the wheels of the organization moving, without even being seen. Although we do not see you on a daily basis, know that your work is appreciated."
Judge Gonzalez closed her email with, "It has been my honor to serve as your Chief Judge. I wish Judge Bell and her leadership the best of luck in continuing to make improvements on access to justice and time to disposition."
During her term as chief, Judge Gonzalez established a jury services committee and put into action a plan to add active voter registration names to the Court's Jury Master List. Judge Gonzalez implemented improvements to how minor guardianship and involuntary commitments are handled. She spearheaded logical enhancements to business practices to maximize space and proximity to enhance interface at the court with a business pod and a guardianship/probate pod. Management for homicide cases was also centralized under her leadership to improve efficiency in the management and timely disposition of such cases.
"I want to extend sincere appreciation to Judge Gonzalez for her hard work and significant accomplishments as the chief judge," said Judge Bell. "Not only did she maintain a heavy and complex caseload, she accomplished much for the court during her tenure as chief judge."
"I also want to thank Judge Herndon and Judge Susan Johnson for their work in the role of presiding judge. Both the Civil and Criminal divisions have made impressive progress under their leadership," said Judge Bell.
July 1 will also usher in docket changes, and courtroom/chamber moves. A summary of those changes can be found in this related story: Change is coming to District Court https://wp.me/p1tnuA-1tQ