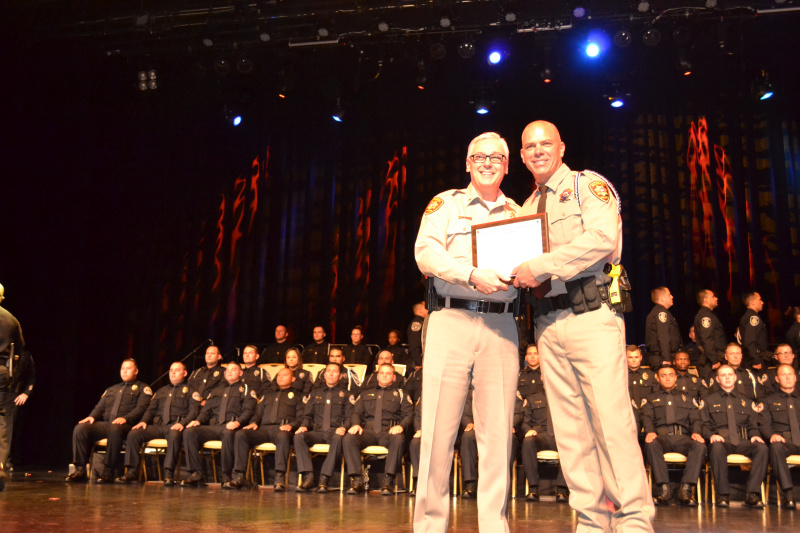 Congratulations to Marshal Johnathan Miller, a new graduate from the Southern Desert Regional Police Academy and recent addition to the Security Division of the Eighth Judicial District Court. Johnathan was one of a handful in his class who graduated with an outstanding grade point average (GPA).
Guest speaker United States Marshal Gary Schofield, stressed ethics and accountability when he addressed the graduating class. He reminded the new law enforcement grads, "The badge doesn't belong to you. You get a different badge when you retire in good standing."
Miller and others in his class completed 22 weeks of tough training including: arms, fight, tactical, vehicular, mental health and other essential training. They are tased, tackled, tormented and tested to their limits to ensure that they can withstand the intense rigors of being in law enforcement.
District Court is looking to recruit others who would like to serve as a marshal. Military veterans are encouraged to consider joining the marshal force. The court is working with the Las Vegas Urban League, Nevada Partners, the Nevada Department of Employment Training and Rehabilitation and the College of Southern Nevada to sponsor military veterans for the Criminal Justice Academy P.O.S.T. certification. Those interested in applying should complete a bailiff/deputy marshal application from the county website employment section
HTTP://WWW.CLARKCOUNTYNV.GOV/DEPTS/HUMAN_RESOURCES/PAGES/EMPLOYMENTOPPORTUNITIES.ASPX.
Marshal Miller is the ninth graduate from the program.